Quilt No.1017LR - Lois Ryan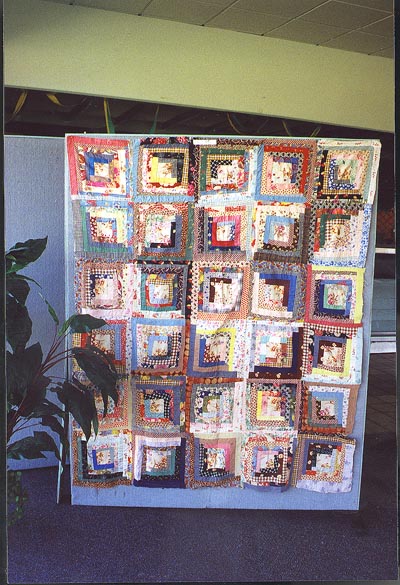 Description:
Log Cabin quilt made from a variety of cottons and silks. There is no padding and the backing is calico bags. 1500 x 1250 mm.
History:
Quilt made in 1910 in Swan Reach SA, by Elizabeth Emma White, for her grandson William Maurice Collins. It is now owned by his daughter Lois Ryan. The quilt has never been used as it was never finished.
Story:
"The quilt belonged to my father. His name was William Maurice Collins. He was born 3rd November 1910 in Mannum, South Australia and died November 1996 in Kalamunda WA. It was made for him by his grandmother, Elizabeth Emma White in 1910 - the year that Dad was born. She made a quilt for each of her grandchildren - Dad had seven brothers and sisters and I'm not sure how many other grandchildren there were. Granny White was born in Australia on 8th May 1853 and died on 27th July 1940. Her parents came from England (they came from a family of lacemakers) but her father was a tailor in Australia. Apparently there were boats that carried fabric (and other supplies) up the Murray River and Granny White may have bought the materials from there to make her quilts - we don't know that. She lived out in the country just out of Swan Reach in South Australia." [Lois Ryan]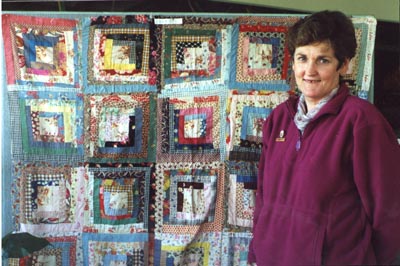 Related Quilts:

Single bed quilt made up entirely of hexagons in 'Granny's Flower Garden' pattern. The rosettes are made up of 8 hexagons and a central one. Native flower prints, including wattle, on a white background. Plain hexagons in white, yellow and blue form a scalloped border. Hexagons are hand stitched and the 2 layers are quilted in running stitch. The backing is a pieced sheet.
2400 x 1500mm

Patchwork quilt made of hexagons in silks, satins and brocades. Colours are soft, mainly creams and pastels, with some deep pink, yellow, dark grey and bright blue. Quilt is bordered with a wide band of light navy moire or faille. Padded, possibly with a blanket. Backed with cotton twill.
2420 x 1900mm

Crazy patchwork quilt made from pieces of silk, velvet, silk ribbon and brocade in a variety of patterns and plains, in a range of colours. All patches are edged with embroidery, in blanket, feather, herringbone and other stitch variations. Many patches are embroidered with flowers, butterflies, leaves and initials of family members, and there is some beading. 1901 is embroidered in one corner. Quilt has a wide border of gold velvet. Patches are stitched to a base fabric. Backing is dark green sateen.
1470 x 1060mm

Quilt of over 6000 suffolk puffs (also called yo yos) in a mix of cotton and synthetic materials. The top is hand stitched on to a satin backing.
2413 x 1626mm

Patchwork quilt made of small squares pieced from four triangles. Each square is 90mm and is joined to the others by a herringbone lacing in yellow rayon crochet thread, so making an open mesh between each square. The quilt is edged with thick yellow rayon corded braid. Each square is backed with gold coloured cotton. No padding.
1730 x 1430mm

Suffolk Puff quilt with puffs mainly in patterned cotton pieces saved from 60 years of household sewing. Puffs are formed into rosettes and the holes are on the top making a decorative feature. It is hand sewn.
2700 x 2400mm.