Quilt No.412MC - Margery Creek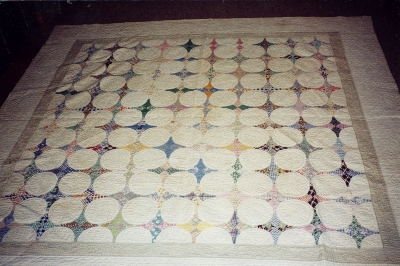 Description:
Snow Ball' cotton quilt made in the USA. Feed bag materials and dress materials. Hand pieced and hand quilted. Calico border and backing.
2058 x 2007mm
History:
The maker is unknown. Margery Arnold Creek inherited the quilt from her Mother Margery Eleanor Arnold (1912-1996) who purchased it from a quilt dealer. The quilt is not used.
Story:
Nothing is known of the early history of the quilt. Margery E. Arnold made quilts and collected them from the 1970s. She chose quilts to purchase usually by their fine workmanship and quilting designs.
Related Quilts:

Patchwork quilt made from hexagons in 'Grandmother's Flower Garden' design, in blue and aqua cottons, polyester and flannelette. Quilt is backed. No padding or quilting.
2380 x 2320mm

Patchwork quilt made for a doll's bed or possibly as an infant's quilt. All cotton. The owner calls the pattern a variation of 'Bow Ties'. Hand sewn and quilted. This quilt is new.
534 x 382mm

Wholecloth quilt originally covered with cretonne and recovered with orange satin. Machine quilted. Padding of wool.
1270 x 1160mm

Hand sewn quilt comprising 263 rosettes of hexagons in chintz. 6 hexagons around a centre one form a rosette. Between these are plain off white hexagons. There is a mark on one corner on cream material, possibly a stamp. The crochet lace border is on three sides only.
2850 x 2720mm

Log Cabin quilt featuring centre square and 3 outer borders. Evidence of later repairs and additions by machine and hand sewing. There is white paint on it. The log cabin pieces are sewn on to black netting. There is no padding and the backing is a centre piece of gold damask/sateen and green and black sateen borders.
1728 x 1321mm

Double sided patchwork quilt/rug. Mainly squares machined together in strips (8 across). Average square 22 to 24cms. One side has a large piece of dark grey woollen material. The materials for the squares include tweed, mohair,many woollens, tartans and cream blanketing all of which were scraps or from used clothing.
1820 x 1680mm