Quilt No.435NTQ - National Trust of Australia (QLD)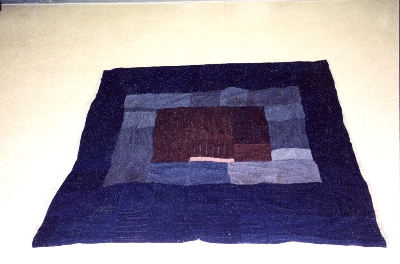 Owner:
National Trust of Australia (QLD)
Description:
Quilt made of tailors' swatches, machine constructed around a central frame that is mainly mid brown pieces. This is surrounded by rectangles of mainly charcoal greys and the outer border is navy blues. The backing is a heavy cotton with random green and cream and grey stripes.
1651 x 1220mm
History:
The quilt was left on the doorstep of the Castling Street Heritage Centre (National Trust of Queensland) in 1993 and was accepted into the collection. Nothing else is known.
Story:
"The quilt was saturated by the 1998 January flood. The person who found the quilt cried a little. It was folded and soaked. It was put into a garbage bag and frozen until the more pressing conservation work was dealt with. It was then thawed slowly in a refrigerator, then checked, rinsed in rain water and observed to see that there was no damage or silt. It was then washed."
[Gai Copeman Hon. Curator, 15.3.98]
Related Quilts:

Machine stitched quilt made from tailors' samples cut into squares. The colours are mainly greys, browns and fawns. There is no padding and the backing is a grey herringbone heavy woollen material with a white fleck. This is folded back to the front to make a 75mm border and finished with a dark grey braid where it meets the patchwork top. 1525 x 1225mm

Cotton quilt top in patter, the owner calls 'Tumblers'. Approximately 590 pieces, with one exception, all different patterns and colours. 2181 x 1980

Patchwork quilt has a centre of a square within a square, with rows of scraps added around it. The scraps are mainly cotton shirting fabrics and are cut in different sizes and shapes. The two long sides have a narrow red edging folded from the back. The other two sides have been 'bagged'. Filling is an unusual weave thought to be wool. Backing is a pink, red and beige floral cotton.
2080 x 1650mm

Quilt top, all cotton. Center frame is 600mm square of calico on to which is appliqued red material in an elaborate cut out design. Radiating rows of mainly red and blue triangles. Other materials include, white with abstract plants scattered across it, pink with pin print white dots, white and maroon herringbone with small white flowers with maroon leaf sprays spread 25mm apart. The border is a strip of red not hemmed but with selvedges on the long sides. The quilt is all hand sewn with small back stitch, running stitch and hemming.

Hexagon quilt made from dressmaking scraps, nearly all woollen. The hexagons measure 150mm. It is hand stitched.
1170 x 1100mm

Irregularly patched from a variety of cotton dress prints, checks, plains and mattress ticking. 1920s and 30s fabrics. Both top and back are similar. Hessian padding. Originally two single quilts, now stitched together.
1850 x 1720mm