Quilt No.454RCH - Red Cliffs Historical Society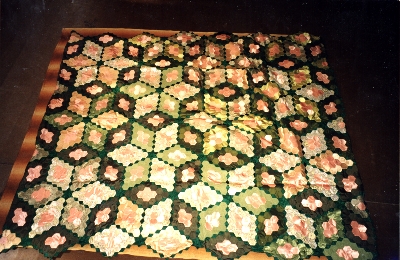 Owner:
Red Cliffs Historical Society
Description:
Quilt with hexagons forming lozenge or honeycomb pattern. Predominantly greens and pinks in brocatelle (rayon brocade). All hand stitched. The backing is lime green rayon. The padding is probably dacron.
1800 x 1630mm
History:
The quilt was made by Florence Beaton of Sunshine Farm in the 1950s or 1960s. It is now owned by the Red Cliffs Historical Society at Red Cliffs, Victoria. The society also has a fine collection of Florence and Clara's needlework.
Story:
Florence (Flo) Beaton (born McNabb) 1920-1996 was the daughter of Clara and Frank McNabb who selected block 46 at Carwarp in the harsh mallee country of north western Victoria in 1913. They called it "Sunshine Farm". Florence was one of 4 childrten (3 boys). She recalled* that her Mother Clara once won a nail driving competition, was an expert with a shotgun, worked on the farm driving a team of horses, had a wonderful garden and was a fine needlewoman as was her mother Ellen before her. Flo carried on the needlework tradition of her mother and grandmother and was accomplished in many types of needlework including making quilts. Flo did not have any children.
*Ref: "A Woman's Work" By Florence Beaton. The story of a Mallee farmer's wife from 1913. Published by The Sunnyland Press, Red Cliffs 1985.
Related Quilts:

Suffolk Puff or puff-ball quilt is made from scraps of dresses and pyjamas, mainly cottons, but also taffeta lining fabric, net, lurex, flocked organdie. The quilt is in bright clear colours, the fabric mostly in small prints, ginghams, different size spots, a few large prints, Chinese brocade, nylon. Puffs are 5cm across, and set 31 puffs across by 45 down. Puffs are squared off when whipstitched together, so corner holes are smaller than usual.
2180 x 1500mm

The quilt on longer exists, just the label, but the quilt was squares of flannelette shirt material, velvets and woollen pieces. The backing was calico. The label was sewn to the backing and it reads: 'Red Cross Killarney Manitoba'. It is embroidered in red and is on a white piece of sheeting.

The strip quilt is handsewn and quilted. Quilt top has 13 panels or strips of 3 different cotton lawn floral prints. Some fabrics are now wearing. Backing is of plain white cotton. The padding is wool. Quilting features a triple row cable design with flower motifs.
2100 x 1800mm

Patchwork quilt made from diamond patches in the 'Cotton Box' pattern, in a wide variety of cotton fabrics, including plains, checks, stripes and florals. The patches have blotting paper templates. The quilt is edged with diamond shapes in a red floral cotton. The backing is of the same red floral pattern, featuring yellow, turquoise and white flowers and leaves. Hand sewn.
2135 x 2033mm

Small square piece of crazy patchwork in silks and taffetas. Many of the seams are oversewn with decorative embroidery stitches. There is a calico backing.
550 x 550mm

Patchwork quilt made for a doll's bed or possibly as an infant's quilt. All cotton. The owner calls the pattern a variation of 'Bow Ties'. Hand sewn and quilted. This quilt is new.
534 x 382mm