Quilt No.549JL - June Loewenthal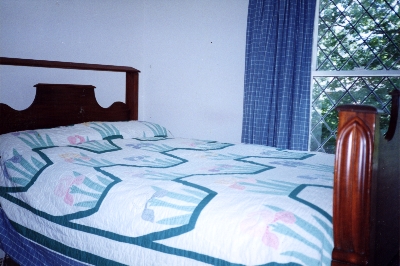 Description:
Hand made cotton quilt in repeat block with appliqued Iris pattern. It is a kit quilt. "The Iris, Design "R" of the 'Mountain Mist Series' of Quilt Patterns" from The Stearns & Foster Company, Lockland, Cincinnati, Ohio. Copyright 1930. The backing is cotton and the filling also.
2439 x 1981mm
History:
The maker is unknown but is said to have been a Scandinavian woman. The present owner purchased the quilt at Tinker Tailor, a shop in the Sydney suburb of Pymble, in the 1950s. It was used as a bedspread at Roberton Park, Kirkham Road, Glengarry NSW an early stone house. It is now used sometimes in the owner's Sydney home.
Story:
June Loewenthal recognised the pattern in a magazine many years after she had purchased the quilt. She then sent to America for it.
The pattern gives detailed instructions and figures for the block in actual size.
"The charm of this beautiful and unusual Iris Quilt lies in the natural treatment of the design. The finished quilt is a veritable garden of bloom in actual Iris colous!"
"MOUNTAIN MIST PATTERNS are obtainable only with the purchase of Mountain Mist Quilting Cotton. One pattern, (no choice of design), is furnished free with each bat purchased, and also a coupon good for one other pattern at a very low price."
[Extracts from "The Iris, Design 'R' of the "Mountain Mist Series' of Quilt Patterns"]
Related Quilts:

A hand sewn quilt of more than 6,536 hexagon pieces in cottons, silks and polyester mix. There is a centre circular pattern of hexagons within a larger hexagon and small hexagons form larger hexagons in a random pattern on the quilt top. There is no padding and the backing is a plain fawn sheet with a floral edging in hexagons. 2880 x 2550 mm.

Large and small pieces, mainly rectangles and mainly cottons, machine sewn. One side has replacement materials in red check, brown, tan, blue and pink materials. The padding is an old woollen blanket.
1950 x 1327mm

Scrap quilt made from a myriad of different materials, cottons, silk types velvets etc. Alternate rows have triangles and odd shaped pieces with in between rows of squares and rectangles in smaller pieces. It is completely machine pieced. There is no padding. The backing is blue slub rayon and is brought to the front to form a border.
2200 x 1520mm

Crazy patchwork quilt, mostly velvet, with two rectangular frames or borders of green fabric. All patchwork pieces have embroidery over the seams, mostly herringbone. Quilt is edged with a cream cotton ruffle. Cotton backing.
1625 x 1625mm

Patchwork quilt made from squares of wool, cotton, tweed, corduroy, tartan and stretch knit fabrics. Colours are mainly reds, greens, blues, pink and orange, mostly solid colours with some checks, stripes and florals. Padding is an open weave hessian material. Backing is a loosely woven cotton, pieced, buff coloured with a woven red and orange thread. Machine pieced, machine quilted in a large rectangle.
1601 x 915mm

Hand sewn cotton cot quilt with pattern of red and white lozenge shaped hexagons measuring approximately 65mm from top to bottom. A centre flower is constructed from 2 circles of 19 hexagons in red and white. This is surrounded by 8 smaller hexagon flowers. Additional single red hexagons are scattered at random on the white background around the rows of flowers. The quilt is not quilted or tied but is attached at all 4 edges. Writing on the back of the quilt (probably added later) reads "Made by Sarah Hodge, Newport, Wales UK for her first child John." There is no padding and the backing is white cotton. 1000 x 1250 mm.