Quilt No.606PWH - The Pioneer Women's Hut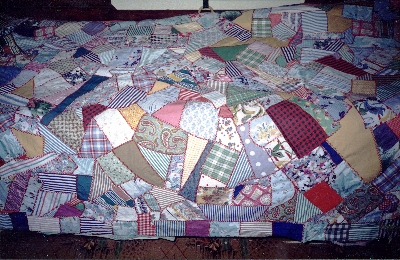 Description:
Machine pieced crazy patchwork quilt in plain, floral and striped cotton materials. Some pieces are seamed and others are sewn direct on to calico backing. Each piece is outlined in red stranded cotton in herringbone stitch.
2150 x 1770mm
History:
This crazy patchwork quilt was made by Jean Joyce in the 1950s when she spent many hours with her invalid husband. She gave it to her sister Joan Bolton who donated it to The Pioneer Women's Hut. It is displayed occasionally.
Related Quilts:

Suffolk puff quilt with each puff approximately 4cm x 4cm. The puffs are small squares rather than the more usual circles. Materials are mainly cottons and satins in a wide variety of colours and patterns. The backing is striped flannelette and is hand stitched to the top.
1660 x 1140mm

Cotton quilt, checks, plains and patterns. Machine construction. Rectangles stitched together in strips and then strips joined. The backing is a cotton print. There is no padding and no quilting.
2420 x 1220

Double sided patchwork quilt. One side has small 'Tumbling Block' pattern. The other side has larger pattern of pieced stars. It is made of silks, some printed, some solid colours mainly blues, greens cream and black. There is no padding.
2100 x 1800mm

Patchwork quilt, machine construction in pink and white twill cotton, log cabin pattern. Each log cabin block was constructed with the backing in place, in groups of 4 blocks placed together. Each block 200mm in size.
2300 x 2050mm
Child's Patchwork quilt of pieced repeat blocks in red print and white cotton, in 'Bow Tie' pattern. Qult has cotton backing, and wool filling. Some patches are fraying. The quilt has 'Mary Lactitia Thompson' embroidered on it.
1905 x 1296mm

Cotton quilt made in the USA. The pattern is 'Turkey Tracks'. It is machine pieced and very finely hand quilted. The backing is calico and the padding is cotton.
1880 x 1753mm