Quilt No.606PWH - The Pioneer Women's Hut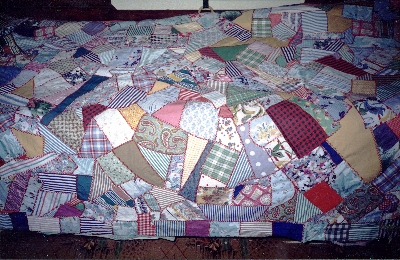 Description:
Machine pieced crazy patchwork quilt in plain, floral and striped cotton materials. Some pieces are seamed and others are sewn direct on to calico backing. Each piece is outlined in red stranded cotton in herringbone stitch.
2150 x 1770mm
History:
This crazy patchwork quilt was made by Jean Joyce in the 1950s when she spent many hours with her invalid husband. She gave it to her sister Joan Bolton who donated it to The Pioneer Women's Hut. It is displayed occasionally.
Related Quilts:

Utilitarian quilt. The padding is pieced used clothing and possibly reused blanket. The top and backing are machine pieced cotton scraps in a wide variety of pattern and colours.
1626 x 1601mm

Patchwork quilt made from squares of cotton prints in florals, stripes, spots and checks, joined together in rows. Colours are predominantly blues, reds, yellow and pastels. Binding is of turquoise blue fabric. Materials appear to be from the 40s or 50s. Patches caught in the middle with a woollen knot - red, yellow, blue wool. No quilting. Backed in blue fleecy flannel.
Single bed length and width.

"A single bed cover made up of squares and recrangles of woollen fabric pieced together by a Vicker Sewing Machine from Myer Melbourne. The fabrics are either new (left over scraps) or used (unpicked woollen garments). The backing is an old (used) candlewick bedspread. There is no padding. It is faded and worn due to being used for other purposes later. There is a 66 cm high clown that ahs been appliqued on mainly by hand using blanket stitch. It is also made from scraps of fabric. The hands were cut from an old felt hat."
2400mm x 1660mm

Machine made cotton quilt with 100mm cotton squares placed diagonally with peaks running around the edge. The colours are mainly autiumn tones and the patterns include checks, tartans, florals, geometric and plains. Materials were scraps left over from sewing projects such as children's clothes. There is a matching valance.

Quilt of over 6000 suffolk puffs (also called yo yos) in a mix of cotton and synthetic materials. The top is hand stitched on to a satin backing.
2413 x 1626mm

150 x 210mm pieces of bound suiting samples overlapped and machined together then herringboned with gold/yellow thread. Each piece has an embroidered motif, using single thread, mainly non Australian birds and animals. '1903' is embroidered on a centre piece. It is hand quilted. The backing is a black floral print. There is no padding.
1800 x 1940mm