Quilt No.877NTNW - National Trust of Australia (NSW)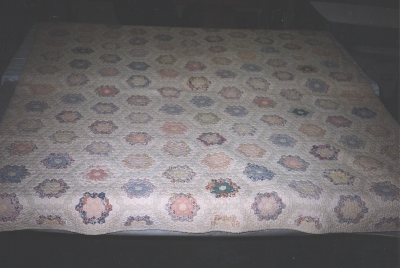 Description:
Handsewn quilt of hexagon patches in cotton prints in 'Grandmother's Flower Garden' pattern. Each flower consists of double rows of print hexagons around a yellow centre and these are joined by 'paths' in plain green and white cotton. Backing is green cotton and there is a wool padding. There is outline quilting around all green and white hexagons and centre and first row of hexagons in flowers.
1885 x 1750mm
History:
The quilt was made in Australia in the 1930s. Details about the maker are unknown. It is now part of the quilt collection of the National Trust (NSW).
Related Quilts:

Patchwork quilt made from squares of cotton prints in florals, stripes, spots and checks, joined together in rows. Colours are predominantly blues, reds, yellow and pastels. Binding is of turquoise blue fabric. Materials appear to be from the 40s or 50s. Patches caught in the middle with a woollen knot - red, yellow, blue wool. No quilting. Backed in blue fleecy flannel.
Single bed length and width.

Hand sewn patchwork quilt with a pattern of blue stars. Each star consists of hexagons in the centre with part diamonds forming the star shape. The quilt is made from scraps. It is not padded and the backing is cotton and has a hexagon star border. 2660 x 2470 mm

"A single bed cover made up of squares and recrangles of woollen fabric pieced together by a Vicker Sewing Machine from Myer Melbourne. The fabrics are either new (left over scraps) or used (unpicked woollen garments). The backing is an old (used) candlewick bedspread. There is no padding. It is faded and worn due to being used for other purposes later. There is a 66 cm high clown that ahs been appliqued on mainly by hand using blanket stitch. It is also made from scraps of fabric. The hands were cut from an old felt hat."
2400mm x 1660mm

Patchwork crazy quilt in velvets and silks, no pieces over 4" long. Colours are black, maroon, pinks, blues and pastels, and all seams embroidered with coloured silks in herringbone stitch. Backing is green, there is no padding. Quilt is bound with black velvet 1/2" wide. A patch near the centre is embroidered: '1909' and '1948'.
940 x 915mm

Pieced repeat block, in what the owner calls 'Our Village Green' pattern. Wide variety of patterned and plain materials. Finely quilted. Padding is cotton and the backing is white calico. 2180 x 1890 mm.

This quilt consists of rows of pieced blocks approximately 280mm square sewn directly on to a foundation square. The design is really a version of 'log cabin' set on the diagonal. The backing squares are made from flour bags including a number stamped in blue ink "The Defiance Milling Company��..Toowoomba NET 3 lbs". Another is stamped in green ink "Parsons Rolled Oats". Two short sides and one long side of the quilt are bound in apricot coloured cotton.
1960 x 1700mm