Outback Regional Gallery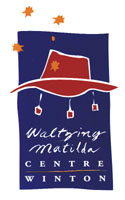 The Outback Regional Gallery was officially opened on 11 April 1998 during the Easter in the Outback celebrations marking the opening of the Waltzing Matilda Centre in Winton.
The Outback Regional Gallery aims to enrich the cultural life of the community by presenting quality exhibitions from diverse sources, while promoting exhibiting opportunities for local and regional artists. The presentation and management of exhibition is carried out by professionally trained members of the Gallery Volunteers Group, drawn from the local community.
The Outback Regional Gallery is the only gallery in central western Queensland purpose built to enable the display of art works from State and National institutions.
Address:
Waltzing Matilda Centre, 50 Elderslie Street, Winton, QLD
Hours:
Every day 8.30am - 5.00pm, except some public holidays.
Admission:
Fee includes entry to the Waltzing Matilda Centre and the Qantilda Museum: Adults $14, Seniors $12, Children $12, Family $30
Collection:
The collection consists of paintings, photographs, sculpture and ceramics. A major focus is the Outback of Waltzing Matilda and its connection with the Australian identity. Since 1996, the first prize-winners in the Waltzing Matilda Art Show have been acquired for the Collection.
Items
Painting
Waltzing Matilda - A Tribute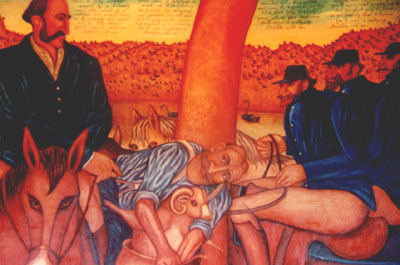 Description:
Oil on canvas. This is the winner of the inaugural Waltzing Matilda Art Competition in Winton in 1996. The painting depicts the troopers riding down upon the swagman.
Painting
Waltzing Matilda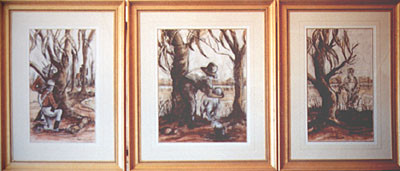 Description:
This triptych in natural ochres by Winton artist Sally Ogg, tells the story of Waltzing Matilda. Commissioned by the Winton Shire Council to commemorate the writing of Waltzing Matilda by Banjo Paterson in the Winton district in 1895.
Sculpture
Once a Jolly Swagman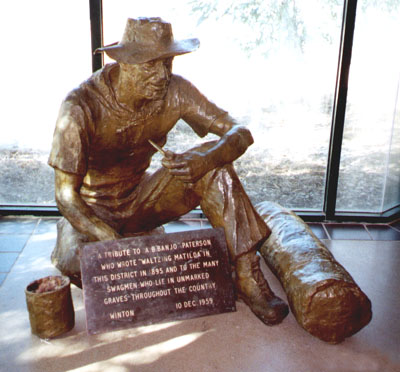 Description:
This statue is a tribute to Banjo Paterson and the swagmen who lie in unmarked graves throughout the outback. Commissioned by the Winton Shire Council.