Manilla Heritage Museum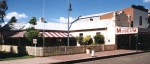 MANILLA HERITAGE MUSEUM is situated in Manilla's main Street 44km northwest of Tamworth in the New England Region of NSW. It is managed by Manilla Historical Society Inc., est.1972.
The facility incorporates the Royce Cottage Collection and the Manilla Community Archives and is housed in the former family home of G.H.Royce, chief engineer for the construction of the iron traffic bridge over the Namoi River (1884-86).
The Museum incorporates a General Reference Room housing family and community histories and items of particular relevance to local culture with several environmental and feature displays set up in the cottage.
Outdoors you'll find the Yarramanbully Schoolhouse (1935-1953) and a Memorial Garden honouring the Chinese contribution to Manilla's progress. A replica "Platypusary" acknowledges Naturalist Harry Burrell's contribution to animal science.
Address:
197 Manilla Street, MANILLA NSW 2346, Australia
Tel:
+61 2 6785 1207
+61 2 6785 1207
Hours:
9am - 4pm 7 days per week.
...
Admission:
MUSEUM Entry / ARCHIVE Access Adults - $4 Concession $3 Children $1 Family - 2 adults & 3+children - $10 Groups 10+ - $3 per person (inc. tour) School Groups - $1.00 per student
Facilities:
Group Tour bookings are most welcome and the Park beside the Namoi River is an ideal picnic spot.. There is ample bus parking and wheel chair access available at the Museum. Disabled toilet facilities are located at the adjacent Town Hall Complex. Please call the Visitor Info Centre on (02) 6785 1207 for further information or Email manilla_history(at)yahoo.com.au

Collection:
Archive documents available for research include collected Manilla Community Histories; contributed Family History publications and the alphabetical file listings; a major family history resource, "Manilla's Lost Folks" (Shirley Coote, 2002, reprinted 2004/2006) along with accompanying obituary files (1883-today), all accessible to the public.
More histories, including Manilla's Timeline, Significant Sites list and overview of the town's Rural Industries, can be found via the Website front page, along with a Family History Forum & Online Photo Albums.
Manilla's Family History Archive is open to public access with a productive self-search procedure which simplifies the process of looking for family connections, cemetery details and published items.
Our Museum Volunteers look after the Palais Picture Theatre Projectors, 4 19th Century Brides, Jane Pymble's Pink Digital Pocket Watch, and lots, lots more...even the Dreaded Dentist's Chair! You never know what you'll find at Manilla Heritage Museum.