Sacred Spaces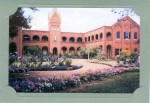 Set in spacious gardens creating an atmosphere of peace, the Convent is the Motherhouse of the Sisters of Mercy who have been in the Hunter Valley since 1875. There is a community of retired Sisters in residence. Gracious buildings date from the mid nineteenth century, and display remarkable architectural beauty. Conducted historical tours interpret this precinct, including neighbouring St Patrick's Church (1861) , and tell a story of pioneer religious women.
Sacred Spaces has an annual programme of musical entertainment.
The magnificent Chapel is particularly suited to weddings.
The gardens are available for photos by arrangement with the resident community of Sisters
Large rooms are available for hire. Suitable for day meetings of groups up to 50, including for art/craft groups. Grounds, gardens and Chapel particularly suited to groups wanting quiet times for spiritual activities.
Vist our website www.sacredspaces.org.au
Address:
30 Queen Street, Singleton NSW 2330, Australia
Admission:
TOURS - LARGE GROUPS Cost per person Tour $6 Morning/afternoon $4 Lunch $12-50 Full tour (M/A tea, lunch, tour) $21
SMALL GROUPS/INDIVIDUALS Cost per person $10 full tour $5 short tour (1/2 hr)
Concerts Adult $25, concession $20, school students $5
Facilities:
Access With Assistance for the Disabled, First aid equipment, Gardens in property, Guide, Interpretive Centre, Picnic Area, Public Toilet, Shaded Area, Sheltered Area, Shop
Collection:
The Singleton Convent Collection resides in a number of rooms throughout the Convent, and includes a small museum display, a collection of moveable heritage items throughout buildings, and a catalogued on-line heritage library collection (approx 7000 items - books and music).