Quilt No.269IB - Ida Blenkiron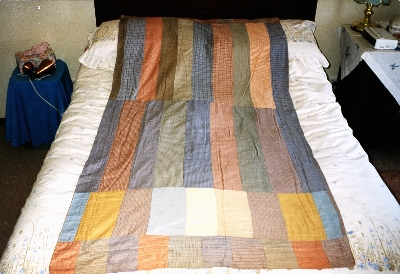 Description:
Rectangular quilt with front and back made of rectangles of cotton samples of shirt materials, in checks, stripes and plains. Colours are soft muted reds, greens, blues, yellows and browns, and pastels. Construction is 3 to 4 rows of rectangles joined across the quilt. Padding is probably an old blanket. There is a row of hand quilting approximately the width of one patch in from the edge, holding the layers together.
1870 x 950mm
History:
Made by Mrs Edith Elizabeth Hocking (born Rowe) (1885 - 1969) around 1930, in South Australia. Owned by Ida Blenkiron (born Hocking).
Story:
Ida's uncle Ted (her father's brother) worked at Goode, Durant & Murray in Adelaide and when he'd come home for the holidays he'd present Edith with the samples with which she was delighted to make a new quilt.
Related Quilts:

Hand pieced and quilted quilt in silks, wool and cotton dress materials. The centre is a hexagon star in pink and yellow with black points. Most of the body of the quilt is pieced in Tumbling Blocks with an outer border of triangles. The backing is pieced from large rectangles of blue satin, rust-brown moire taffeta and brown-grey silk in a 'rectangle within a rectangle' pattern. The quilting is all over and finely done in yellow thread in a variety of patterns including snails, petalled flowers and hearts.

Frame cot quilt in cotton fabrics, the centre square in a paisley print surrounded by two plain borders or frames, then two frames pieced in alternate light and dark triangles, then a frame in a floral print. Outer border is of red fabric, longer at top and bottom to make a rectangle. No quilting. Machine sewn.
1050 x 770mm

Patchwork quilt in the Log Cabin pattern, made from cotton fabrics in prints and plains in bright colours. There are 185 squares, all sewn on to check gingham. No padding. Backing is of black cotton.
2718 x 2540mm

The top is machine pieced patches of used clothing. The backing is large pieces of dress materials and either end patches similar to the top. The padding is a chaff bag or similar with patches of worn, matted children's jumpers sewn directly on to it.
1400 x 1150mm

Crazy patchwork quilt pieced from velvets, satins, braids, taffetas, cottons with some decorative stitching. A ruffle and the backing are in ruby red satin. There is a dacron type padding.
1620 x 1200mm

Hexagonal log cabin quilt. Hexagons constructed of strips with half hexagon dark and half light. These hexagons are then joined to form diagonal light and dark stripes. Machine and hand sewn. Materials are wools, printed cottons, velvets, corduroys, rayons, flannelettes, brocades, pique and taffetas. The backing is a single piece of brocatelle (rayon brocade). There is probably a thin layer of padding.
1400 x 1200mm