Quilt No.319TM - Tom Morgan
Description:
Animal skin rug made from squares of kangaroo skins placed in a diamond pattern, with a row of dark brown fur diamonds along one side. Original backing was red felt; there is some remaining along the egde of the rug. The rug was machine sewn. 1423 x 1169mm
History:
Made in 1972-1973 by Mrs Antonia (Toni) Wells, of 'Woolloola', Jericho Qld. Purchased by Elizabeth Morgan c.1975. Owned by her ex-husband, Tom Morgan.
Story:
"The rug has been in constant use by Ben (my son) & also his siblings. The missing lining can probably be explained by a moth attack. These skins are in very good order.
Toni Wells, the maker of this rug lived in Western Queensland. She educated her three sons on the proceeds of making kangaroo skin bags, rugs etc. These boys would shoot the kangaroos in the holidays. How they were tanned is not known (ie home or professional).
This story is indicative of the spirit & determination of some women in the bush - hard times on the land lead to enterprising ventures to make money - to survive."
[Tom Morgan to Morley Grainger NQR Co-ordinator]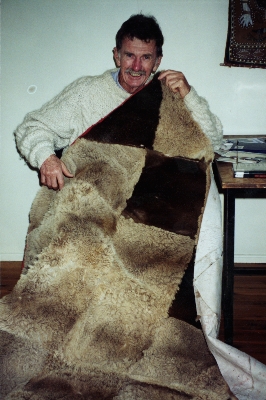 Related Quilts:

Kangaroo skin cloak of seven gores is made from the skins of seven grey kangaroos (Macropus fuliginosus). The skins vary in size and shape, the inner five are roughly triangular. The cloak is edged with a series of loops, through one of these near the collar is a piece of cloth which appears to have tied the cloak together. The skins are sewn together with two sorts of linen or cotton thread. In a small diamond-shaped gusset at the back of the neck there are some stitches of sinew. The skins are sewn together by means of a small hem which was turned back on to the fur, so stitches went through two layers of skin on each gore. There are some small holes in the skins. The skins are very soft and pliable, and greyish in colour; they vary in size and shape. Longest part: 800mm Ref: MA Thesis 1973, S.Meagher 'A Reconstruction of the Traditional Life of the Aborigines of the S.W. of Western Australia.

Kangaroo skin rug featuring skins cut in diamond shapes. It is stitched with heavy cotton and the seams are oversewn. It is not backed. 1825 x 1290mm

Kangaroo skin rug made from 450 x 270mm pieces overstitched together. The backing is a wholecloth plaid in red brought to the front and machine stitched to form a 60mm binding. 1660 x 1400mm

Possum skin rug with 6 rows of 7 skins. The backing is red felt with a border showing and peaked edge. 1680 x 1460mm

Small possum skin rug with the centre area greyish skins and 2 narrow borders of reddish brown and dark brown pelts. The skins are hand sewn with white thread. The backing is woollen material, light brown with dark brown woven stripe. 1380 x 1040mm

Platypus skin rug, 63 pelts in 7 rows by 9. Skins are small, rectangular and worn down. The colour is greyish brown with a darker centre. The skins are machine stitched then the rug is hand sewn to dark brown felt which extends to form a wide border and this has 3 rows of machine stitching. 1780 x 1425mm