Quilt No.336ER - Elsie Roberts
Description:
Quilt made of white cotton with a diamond set applique pattern of brown tipped pink dogwood blossoms with green leaves in the centre. Hand appliquéd. The centre is hand quilted with cross hatching and the borders are quilted with feathered cables and circular patterns. Padding is Mountain Mist polyester, the backing is of white cotton. The quilt edges are bound with pink bias binding.
2180 x 1860mm
History:
Made by Elsie Roberts about 1963 while living in Box Hill Sth (Vic). It is known as the 'Dogwood' pattern. Owned by Elsie Roberts.
Story:
"This was the second quilt I made. It was a quilt pack imported by George's of Collins St, from Mountain Mist. We were extending our house at the time & I showed the carpenter a photo of a quilt on a large quilting frame and asked him to make me one. The frame is still used occasionally for quilting & displays. The quilt was used for years and washed often. The binding which was supplied was only bias binding & is showing wear. Also the applique has faded."
[Elsie Roberts 1997]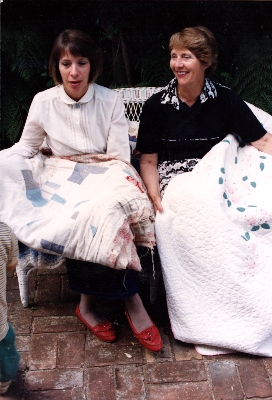 Related Quilts:

Wholecloth pram quilt with a top of pink cotton sateen, and the reverse is a more finely woven, ivory, fabric. All over quilting design as main feature, with stylised hearts, leaves and cross hatching. The padding is cotton batting. 870 x 660 mm.

Hand stitched, cotton, appliquéd, quilt in a flower pattern on a plain background. Colours are shades of green, apricot and browns. This quilt was known as a 'Bride's Quilt'. Padding is thought to be layers of white fabric raised almost like a wadding. The backing is cotton material. 2470 x 2020 mm.

Wholecloth quilt originally covered with cretonne and recovered with orange satin. Machine quilted. Padding of wool.
1270 x 1160mm

Yellow and white cotton Durham quilt with centre panel of patchwork blocks in counterchange design called 'Plate'. There is a wide yellow border and square white corner blocks. It is padded and there is a yellow backing. It is quilted all over following the patchwork pattern in the centre panel. Feather pattern border.
2120 x 1720mm

Both sides of this wholecloth quilt are made from different floral cottons with a third pattern used to form borders. It is hand stitched and the quilting pattern is squares. The padding is raw cotton.
1740 x 1240mm

Utilitarian cot quilt. The padding is layered reused woollen materials, parts of old blankets, part overcoats. These are stitched together with string and knitting wools The top and backing are printed cotton. There is a frill all around and buttons have been used to anchor the padding layers to the outside cover.
1169 x 915mm