Quilt No.355AH - Ann Hockey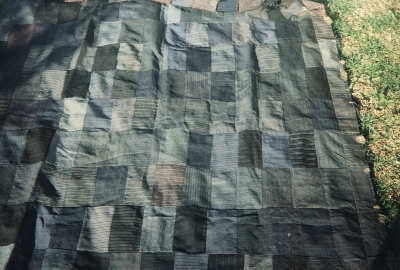 Description:
Patchwork quilt made from rectangles of samples of men's woollen suitings, in greys and blues and some browns. The rectangles were machine sewn together and then sewn in rows or strips. Originally the quilt had a rabbit skin backing, removed due to deterioration. No padding. Machine sewn.
1550 x 1420mm
History:
Made in approximately 1925 by Sarah Hockey at Wendellama (NSW). Owned by her son, Reg Hockey, now owned by his daughter Ann.
Story:
Used on surveyor's gang at Deua River (north west of Moruya, NSW), 1925, and also in the Brindabellas (NSW).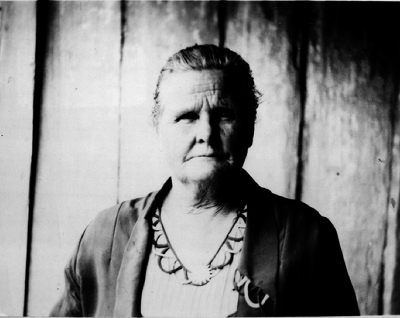 Related Quilts:

Quilt of machine pieced squares and rectangles using a wide variety of materials in plain colours and patterns. It is one of a pair. There is no padding and the backing is 90cm strips of calico.
2500 x 2130mm

Hexagon quilt made by hand from a wide variety of cotton materials. There is no padding and the backing is calico.
2286 x 915mm

One side of this quilt is large pieces of check and striped material surrounding a small patterned supper cloth with a border of scrap pieces. The other side is small, floral, check, spotted, striped and plain cotton pieces surrounding a tablecloth. It is machine sewn and is not quilted. The padding is an old woollen blanket.
1825 x 1625mm

Cotton quilt made in the USA. Pattern is the 'Evening Star' and each star has a frame. It is hand pieced and hand quilted and uses shirting material. It has been modified along two sides where the block extension is visible, having been turned to make a hem. The backing is calico and the padding is cotton.
1829 x 1575mm

The quilt on longer exists, just the label, but the quilt was squares of flannelette shirt material, velvets and woollen pieces. The backing was calico. The label was sewn to the backing and it reads: 'Red Cross Killarney Manitoba'. It is embroidered in red and is on a white piece of sheeting.

Patchwork quilt of square and rectangular patches, mainly in cotton fabrics, in plains and prints. Colours are predominantly yellow, pinks, blues and prints on white. Backing is the same except there is a piece of patterned curtaining material as a patch across the middle width. Padding is old blanketing.
1830 x 1140mm