Quilt No.579MR - Mileva Robev
Description:
Wholecloth quilt from Macedonia. Both sides are made of satin. Old gold colour on one side and burgundy on the other. It is machine quilted with 3 parallel lines of stitching around the edge and a double row of stitching forming triangles in the centre. The padding is raw cotton grown in (FYRO) Macedonia.
2000 x 1500mm
History:
Mileva's mother ordered the quilt from a local quilt maker in Macedonia for her daughter's dowry. It came to Australia with Mileva and her husband Trifun in 1966 and is still owned by Mileva. It is used occasionally.
Story:
"Mileva's Quilt
In keeping with tradition Mileva's mother Velika, ordered this quilt from the local quiltmaker in the city of Bitola, in southern Macedonia (part of the former Yugoslav Republic). The quilt was part of Mileva's dowry (called 'prike' or 'cheiz') and also part of the preparations which Mileva's parents had made for coming to Australia. They had taken the big decision of migrating to a country which, they felt, offered more prospects for a better life for them and their children.
Mileva, although only seventeen and still at high school, wanted to marry her young man, Trifun Robev. Her parents had agreed that they would marry, but felt that Mileva was too young and should first complete her education. However, Mileva had other ideas when faced with the prospect of leaving for Australia within the month. Returning from Belgrade where they had been for their various medicals and other travel arrangements, she and Trifun decided to elope, causing much concern and consternation throughout their families and community!
Eventually the family came to Australia by ship. Mileva and her husband followed some time later, arriving by air in 1966. Mileva was seven months pregnant with their son Nicholas. Later they had their second child, daughter Sonia. The lovely satin quilt from Macedonia was much used in the early years of the children. And now there are grandchildren, Billie and Nikki, children of Nicholas and his wife Daniella. The quilt is still in excellent condition."
[Written by Lula Saunders, adapted from interview 29/7/99 for the National Quilt Register]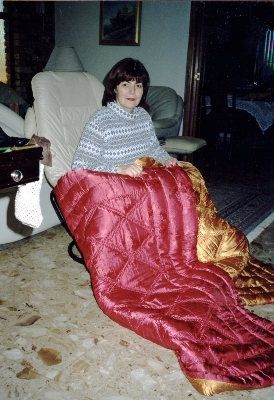 Related Quilts:

Wholecloth pram quilt with a top of pink cotton sateen, and the reverse is a more finely woven, ivory, fabric. All over quilting design as main feature, with stylised hearts, leaves and cross hatching. The padding is cotton batting. 870 x 660 mm.

Hand stitched, cotton, appliquéd, quilt in a flower pattern on a plain background. Colours are shades of green, apricot and browns. This quilt was known as a 'Bride's Quilt'. Padding is thought to be layers of white fabric raised almost like a wadding. The backing is cotton material. 2470 x 2020 mm.

Both sides of this wholecloth quilt are made from different floral cottons with a third pattern used to form borders. It is hand stitched and the quilting pattern is squares. The padding is raw cotton.
1740 x 1240mm

Utilitarian cot quilt. The padding is layered reused woollen materials, parts of old blankets, part overcoats. These are stitched together with string and knitting wools The top and backing are printed cotton. There is a frill all around and buttons have been used to anchor the padding layers to the outside cover.
1169 x 915mm
Wholecloth quilt made of deep cherry red satin with backing of sky blue satin. The padding is cotton wadding. It is hand quilted and the pattern is an all over one of four leafed clovers with a border of crescent shapes within straight parallel lines.
2000 x 1700mm
Wholecloth quilt made of deep pink satin with a cotton backing in a similar colour. The padding is cotton. It is hand quilted and the pattern is a central motif of a star inside a circle surrounded by parallel lines forming large cable or knot design. The border is of one zig zag and four parallel lines.
1970 x 1770mm