Quilt No.609PWH - The Pioneer Women's Hut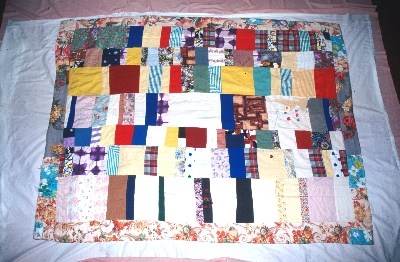 Description:
Utility patchwork quilt made up of mainly squares of furnishing material machine pieced. It is backed with machine pieced patches of woollen jumpers, mainly machine not hand knitted. The back is possibly the top. There is no padding.
1950 x 1270mm
History:
This quilt was made by women in the Wagga district for the Gumleigh Boys' Home c.1940. The home was for boys needing care in the Riverina. It closed in 1985. This quilt, and others made for the home, was for general use on the boys' beds. It was one of three donated to the Pioneer Women's Hut by Hazel Rhodes of The Gumleigh Boys' Home. It is occasionally displayed at the museum.
Related Quilts:

Log Cabin quilt made from a variety of cottons and silks. There is no padding and the backing is calico bags. 1500 x 1250 mm.

Repeat block in Ohio star pattern. Wide border of triangles, pieced blocks and stripes. Stars are in greens, pinks, mauves (all now very faded) and white. Wreath quilting in squares with smaller wreath quilting in triangles. There is padding and the backing is a poly/cotton sheet. 2500 x 2450mm

Patchwork quilt made of pieced blocks in the 'Shoofly' pattern, in white cotton and a red, white and blue geometric cotton print. Alternate squares are in the print. The border is made of same size squares in the print. No padding. The backing is a sheet. Hand sewn.
1829 x 1829mm

Machine pieced top of squares of part jumpers, most hand knitted. The padding is a blanket. The backing is an old curtain.
1735 x 1350mm

Pieced repeat block, hand pieced over papers in a diamond pattern. Blue patterned border. There is no padding and the quilt has been recently backed with calico. The 2 layers are tied together. 2240 x 1830 mm.

Patchwork quilt made of small squares pieced from four triangles. Each square is 90mm and is joined to the others by a herringbone lacing in yellow rayon crochet thread, so making an open mesh between each square. The quilt is edged with thick yellow rayon corded braid. Each square is backed with gold coloured cotton. No padding.
1730 x 1430mm