Quilt No.786CN - Charlotte Nattey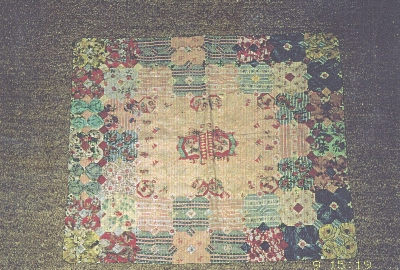 Description:
Cotton quilt of pieced hexagons and some diamonds made for a baby's basket. Colours are mainly blue and pink and two 'Punch and Judy's' are appliqued in the centre. There is no padding and the backing is a cotton floral in blues and greens.
760 x 660mm
History:
The quilt was made in London by Miss Mildred Millington in 1966 for the birth of the first child of her niece Charlotte Nattey who still owns it. It is stored for the next generation.
Story:
" To tell you of the quilt is to tell you of the person.
My aunt joined the ATS in 1938. She felt war was inevitable and wanted to do something practical. She became an officer in charge of an 'Ack Ack' battery that fired the first shots in the defence of London. In 1944 she was one of a very small detachment of women (all part of the 'Ack Ack') who were stationed in Belgium with the aim of shooting down V1 and V2 bombers. I believe these were the only women on active duty for the allies in Europe.
After the war ended she remained in the army - now the WRAC rising to the rank of Lieutenant Colonel before retiring in 1956.
She then held a position with the army benevolent fund. This quilt went with her to 'keep her busy' on many postings.
Finally I should tell you that although right handed she had an accident when she was about 10 and had to always use her left hand. She also had poor eyesight due to childhood cataracts so the fact that she always knitted and did tapestries and quilts was quite remarkable."
[Charlotte Nattey 6.4.97]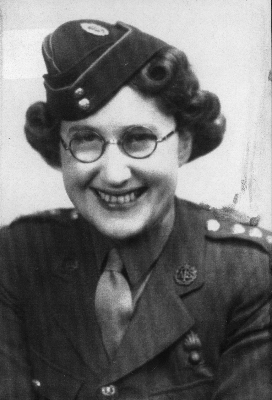 Related Quilts:

Cotton patchwork cover constructed from hand sewn hexagons (65mm) in cotton and linen furnishing materials. The curved edges are bound with blue and cream printed striped cotton. The backing material is not visible.
941 x 261mm

Hexagon quilt in dress and shirting cottons constructed in frame style with a centre rosette of 7 patches surrounded by 4 borders of patterned hexagons alternating with cream patches. The quilt has an inner border of triangles then rows of rosettes alternating with cream patches. The outer border is triangles. There is no padding. The backing is cream linen and has had a 20th century white cotton sateen slipstitched to it.
2045 x 1940mm

Hexagon quilt constructed over papers; all seams oversewn with featherstitch embroidery. Materials are vyella and clydella scraps from childhood dresses of the maker's first four children, augmented with scraps from a dressmaker and a book of samples. There is no padding; backing is plain, pale blue, brushed cotton.
2200 x 1720 mm.

"A tied patchwork wagga quilt made from swatches of men's wool suiting fabrics in blue/grey and pink/brown tonings. Rectangular swatches have been cut in half diagonally, and the resulting right-angled triangles paired to form larger equilateral triangles which alternate dark with light across the field. The quilt has been machine and hand pieced, then machined in vertical stripes.
The centre field is bounded by two strip-pieced borders at top and bottom, and three down each side. These are sewn from rectangles, using light pink/brown tones for the inner border and darker colours for the outer borders. The quilt is padded and backed and the side seams are secured with black herringbone stitch. The three layers are tied together invisibly with lazy daisy stitches in black cotton from the back." [PHM] The padding is a wool blanket and the backing is two pieces of cream twill cotton.
2030 x 1440mm

" Reversible patchwork quilt of woollen suiting/upholstery fabrics in khaki, greys, blues and browns. Both sides have different designs. The front of the quilt has 13 rows of 12 vertical rectangles flanked on either side by a column of 22 horizontal rectangles. The reverse has a more interesting and complex design of small and very large rectangles, squares and triangles; with khaki contrasting with the duller greys and blues. The patchwork layers are joined at the edges with machine stitching and the quilt is machine quilted along 3 horizontal lines following joins in the patchwork; therefore not being totally straight. These lines are more noticeable on the reverse. The reverse face has been on display at the NGA." [NGA] There is a cotton blanket used as padding. 2054 x 1451mm

Quilt made of 9120 very small Suffolk Puffs, each one about the size of a 20 cent piece. "Each piece backed and the front of it drawn up like a reticule. It was not backed and was rather fragile, so I backed it on to a sheet, as it was heavy and in danger of tearing when lifted." [Gillian Sullivan]
2360 x 2230 mm