Quilt No.786CN - Charlotte Nattey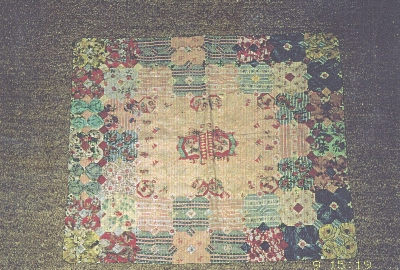 Description:
Cotton quilt of pieced hexagons and some diamonds made for a baby's basket. Colours are mainly blue and pink and two 'Punch and Judy's' are appliqued in the centre. There is no padding and the backing is a cotton floral in blues and greens.
760 x 660mm
History:
The quilt was made in London by Miss Mildred Millington in 1966 for the birth of the first child of her niece Charlotte Nattey who still owns it. It is stored for the next generation.
Story:
" To tell you of the quilt is to tell you of the person.
My aunt joined the ATS in 1938. She felt war was inevitable and wanted to do something practical. She became an officer in charge of an 'Ack Ack' battery that fired the first shots in the defence of London. In 1944 she was one of a very small detachment of women (all part of the 'Ack Ack') who were stationed in Belgium with the aim of shooting down V1 and V2 bombers. I believe these were the only women on active duty for the allies in Europe.
After the war ended she remained in the army - now the WRAC rising to the rank of Lieutenant Colonel before retiring in 1956.
She then held a position with the army benevolent fund. This quilt went with her to 'keep her busy' on many postings.
Finally I should tell you that although right handed she had an accident when she was about 10 and had to always use her left hand. She also had poor eyesight due to childhood cataracts so the fact that she always knitted and did tapestries and quilts was quite remarkable."
[Charlotte Nattey 6.4.97]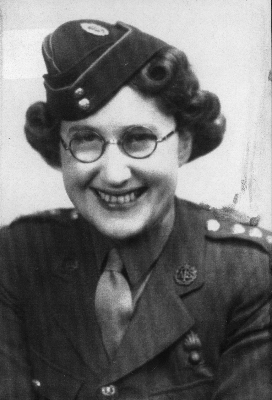 Related Quilts:

Rectangular quilt of print and plain cottons pieced in squares and rectangles, the centre group of pieces surround a larger piece of pale blue fabric, within a frame or border, of bright pink material, then 3 rows of squares and rectangles. Backing of plain fabric. Machine stitched on a treadle machine.

This hand pieced and hand quilted hexagon quilt is in a pattern often called 'Grandmother's Flower Garden'. The background is white and there are concentric rows of double rosettes each with a yellow centre. The colours start in the centre of the quilt with pink and then follow the rainbow. Paper templates were used. The padding is cotton (American) and the backing is cotton floral poplin.
2360 x 1730mm

Cotton scrap quilt with shapes of diamonds, strip and squares. The quilt has been repaired using machine zig zag in white cotton. There is no padding and the backing is calico.
2175 x 1625mm

Patchwork quilt of square and rectangular patches, mainly in cotton fabrics, in plains and prints. Colours are predominantly yellow, pinks, blues and prints on white. Backing is the same except there is a piece of patterned curtaining material as a patch across the middle width. Padding is old blanketing.
1830 x 1140mm

Hand sewn patchwork quilt with a pattern of blue stars. Each star consists of hexagons in the centre with part diamonds forming the star shape. The quilt is made from scraps. It is not padded and the backing is cotton and has a hexagon star border. 2660 x 2470 mm

Patchwork quilt made from squares of woollen fabric scraps from dressmaking. Squares are stitched together in no particular order. Colours are bright, with pink, yellow, green, brown and light blue predominating. Fabric is plain, checks and stripes. No padding or quilting. Backing is a cotton bedspread, striped in pinks and magenta.
2530 x 1640mm