Quilt No.79AR - Annette Rich
Description:
Unlined quilt. Central square of floral chintz with rectangular and chevron border making a larger frame that is set within another square-on-point frame edged with 2 toned red leaf pattererned chintz. This quilt is mainly pieced (squares, triangles, lozenges) but the hexagon rosettes are appliqued. Dress and furnishing cottons dating from the early 1800s. Raw edged, unfinished. All hand stitched.
2400 x 2400mm
History:
The quilt was made by sisters Eliza (Lizzie) (1845-1925) and Margaret Roebuck (1842-1917) probably on a windjammer plying between India and Australia. About 1860 Henrietta Roebuck took her children from Scotland to live with her brother at 'Jondaryn' on the Darling Downs, Queensland. Neither Lizzie nor Margaret married and when Margaret died in 1917 Lizzie moved to Sydney to live with relations and took the quilt with her. The present owner is a descendant of Lizzie and Margaret's sister Henrietta Maria Howe.
Story:
Sisters Margaret and Eliza (Lizzie) Roebuck, who made the quilt, were born in India of Scottish parents, George Douglas Roebuck and his wife Henrietta (Andrew). Major Roebuck was an officer in the 71st Native Infantry of the British Army. He died in 1846 and is buried in India and is said to have died of a burst aorta from yelling at the troops. It is thought that Hentrietta then returned to Scotland with the children.
About 1860 Henrietta, with some of the children (including the youngest Lizzie and Margaret) went to Australia to live with her brother James Andrew at his property on the Darling Downs Queensland.
Margaret died in Queensland in 1917 and Lizzie went to live in Sydney, taking the quilt with her. The present owner is a direct descendant of Margaret and Lizzie's sister Henrietta Maria Howe.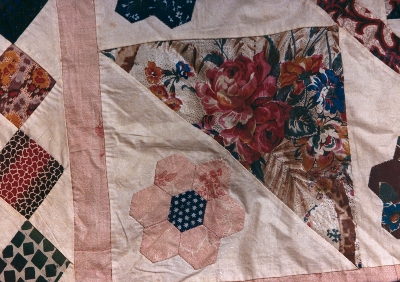 Related Quilts:

Cotton quilt, machine sewn and hand quilted. Pattern similar to Double Irish Chain. The background is white and the small squares mainly patterned in pinks, blues, lilacs and greens. The backing is plain white cotton and the padding, which is lumpy, could be some type of cotton.
2057 x 1220mm

Rectangular patchwork crazy quilt pieced in squares (3 across by 4 down), in silks and wool, with red sashing between blocks and red border, quilted. Colours are dark, with red and light blue. Embroidery includes double feather, rope, herringbone, satin, cross, sword edge, buttonhole and coral stitches, and French knots. Embroidered flowers include lily of the valley, rose, daisy, and sunflower, also butterflies. Backing is pieced in the frame style, with a large centre red square, within 10 frames or borders. Embroidered "In Most Loving Memory of My Darling 1883", "V.H.B." Hand sewn.
1900 x 1500mm

Patchwork quilt made from rectangles and squares of woollen fabrics from dress making projects. Colours are mainly grey, blue, brown, green, with some red and yellow. Fabrics are plain, cheks and stripes. No padding or quilting. Backing is made of white flannelette sheets. The quilt has been lengthened after it was completed, and the backing sheet has been added to at the same place.
2470 x 1320mm

A hand sewn quilt of more than 6,536 hexagon pieces in cottons, silks and polyester mix. There is a centre circular pattern of hexagons within a larger hexagon and small hexagons form larger hexagons in a random pattern on the quilt top. There is no padding and the backing is a plain fawn sheet with a floral edging in hexagons. 2880 x 2550 mm.

Patchwork quilt, all cotton including cotton padding. Pattern is based on squares and a cross. Variety of fabrics, plain and patterned. Hand stitched and quilted.
2083 x 1626mm

Quilt made of hexagons in cotton materials, the hexagons set in the 'Grandmother's Flower Garden' pattern with 6 patterned patches set around a plain coloured centre patch and white hexagons forming 'paths'. There is a white cotton backing with the edges turned under all the way around and top and backing are joined by a blue machine sewn satin stitch. The patches are hand sewn.
2160 x 1830mm