Quilt No.884NTNW - National Trust of Australia (NSW)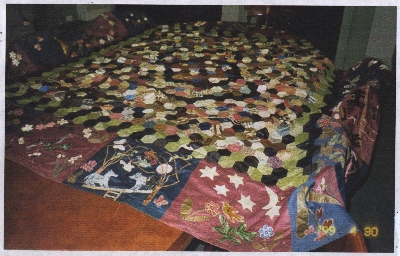 Description:
The body of this quilt is hexagons. This centre piece is surrounded by an applique border of birds and flowers and donkeys on see-saws. The flowers have been elaborately pieced from a great variety of materials. Some of the birds have pres studs for eyes.
History:
The quilt was made by Charlotte Housley in England probably about 1850. It came to Australia in 1989 and was donated to the National Trust in 1999 by Bob and Cynthia Brooks. It is now in the National Trust (NSW) collection.
Story:
Charlotte Housey (the maker) was Mrs. Brooks' (the donor) great-great aunt. Mrs. Brooks mother was born in 1911. Emma Housley was Charlotte's daughter. The machine stitching was done by Emma after Charlotte's death. The quilt came to Australia in 1989 with Mrs. Brooks after her mother's death. A second quilt existed but was thrown out by a family member years ago.
Related Quilts:

Square patchwork quilt made from rectangles of woollen tailors' samples, each patch outlined with machine fancy stitch using red thread. Machine sewn. The backing is a green and white check fabric. No filling.

Cotton quilt made in the USA. Pattern is the 'Evening Star' and each star has a frame. It is hand pieced and hand quilted and uses shirting material. It has been modified along two sides where the block extension is visible, having been turned to make a hem. The backing is calico and the padding is cotton.
1829 x 1575mm

Cot quilt of mixed textiles and techniques. Made in sections and stitched together possibly with some padding. It features embroidered and appliqued animals (cats, donkey, elephant, squirrel, birds, kangaroo, emu) and nursery rhyme characters. Materials are cotton, silk, wool, imitation fur. There is a black velvet patch with a cross stitch parrot and embroidered date and initials 'May 1925 AE'. The backing is woven self patterned curtain material. There is a ruffle around the edge in the same material.
1400 x 930mm
Taylor's sample quilt made from men's suit swatches, mainly greys and blues. Edging is 6cms wide, of blue flannelette. Padding is an old grey blanket, and the backing is of printed pattern corduroy. 1680 x 920 mm.

Patchwork quilt made of squares and rectangles in woollen fabric, stitched together without any particular pattern. Colours are mainly green, grey, blue, black, pink and some yellow. Fabrics are plain, checks and stripes. No padding, quilting or binding. Backing is a remnant of synthetic fabric. The quilt has been well sued and is very worn with fabric torn and marked in some places.
1400 x 400mm

Log cabin patchwork pieces (2) with each block approximately 120 x 120mm. They are diagonally divided into light and dark side. Materials are mainly silks including silk velvets. Each block is stitched on to a backing square, pieces of old blanket, woollens, cottons, many very worn. There is no other backing.
Quilt is hand pieced.
1000 x 1000mm