Quilt No.926ESA - The Embroiderers' Guild of S.A.Inc Museum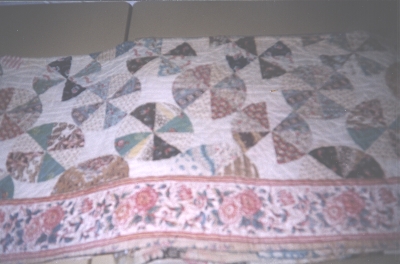 Owner:
The Embroiderers' Guild of S.A.Inc Museum
Description:
4 Pieces of a patchwork quilt which was formerly a whole quilt. It is pieced in cottons in blues reds and browns in many prints. There are whole circles and pieced circles against a plain cream calico background. It is wool lined and is quilted. There are the initials 'A.B.' and '1828' on a central piece. The 4 pieces are various sizes.
History:
The quilt was made by Anna Blackmore in England and thought to have been started c.1828 and taken many years to complete. It was later owned by Miss Eva Tazewell who received it from her father George who was related to Miss Blackmore. George received it after he emigrated to Australia from Somerset. It was donated to the Embroiderers' Guild of SA.
Story:
Anna Blackmore was the sister of Robert Blackmore who wrote 'Lorna Doone'. Eva Tazewell was state hockey coach in the 1940s.
Related Quilts:

Wholecloth pram quilt with a top of pink cotton sateen, and the reverse is a more finely woven, ivory, fabric. All over quilting design as main feature, with stylised hearts, leaves and cross hatching. The padding is cotton batting. 870 x 660 mm.

Hand stitched, cotton, appliquéd, quilt in a flower pattern on a plain background. Colours are shades of green, apricot and browns. This quilt was known as a 'Bride's Quilt'. Padding is thought to be layers of white fabric raised almost like a wadding. The backing is cotton material. 2470 x 2020 mm.

Hexagon quilt constructed over papers; all seams oversewn with featherstitch embroidery. Materials are vyella and clydella scraps from childhood dresses of the maker's first four children, augmented with scraps from a dressmaker and a book of samples. There is no padding; backing is plain, pale blue, brushed cotton.
2200 x 1720 mm.

Patchwork quilt of hexagons, handsewn, in print and plain cottons and rayon. Central star group has diamond shaped groups of patches, with smaller flower shapes, an inner border of a star shape in yellow hexagons, and an outer border of hexagons in vertical bands. Colours are mainly blues, reds, greens and yellow, the 'paths' and border are a pink print. The backing is herringbone stitched to the border or sashing, which has mitred corners.
2400 x 2340mm

Pieced repeat block, hand pieced over papers in a diamond pattern. Blue patterned border. There is no padding and the quilt has been recently backed with calico. The 2 layers are tied together. 2240 x 1830 mm.

Frame cot quilt in cotton fabrics, the centre square in a paisley print surrounded by two plain borders or frames, then two frames pieced in alternate light and dark triangles, then a frame in a floral print. Outer border is of red fabric, longer at top and bottom to make a rectangle. No quilting. Machine sewn.
1050 x 770mm