Quilt No.969NGA - National Gallery of Australia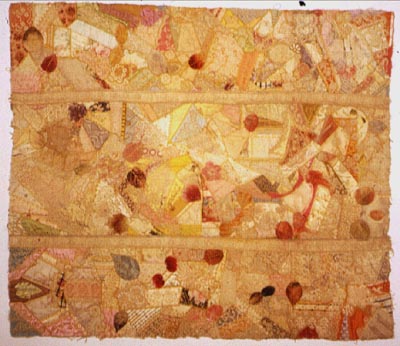 Owner:
National Gallery of Australia
Description:
" This is an unfinished section/piece of crazy quilting. Ribbons divide the piece horizontally into three sections; between these are bands of pastel fabrics and embroidery in the crazy quilt tradition. The fabrics and threads employed are very luxurious: laces, satin ribbons and silk velvets. The embroidery is very fine, employing a wide variety of stitches and threads. This patchwork piece is padded with cotton wadding and backed with tarlatan." [NGA] 1170 x 1020mm
History:
Margaret Weir made the quilt around 1910. Margaret's niece, Mrs. Alison Brown, Australian Capital Territory, donated the quilt to the National Gallery of Australia in 1982.
Story:
Margaret Brown Weir (Australia 1856-1934) was born at Steiglitz, Victoria and died in Royal Park, Melbourne.
Related Quilts:

Rectangular quilt of print and plain cottons pieced in squares and rectangles, the centre group of pieces surround a larger piece of pale blue fabric, within a frame or border, of bright pink material, then 3 rows of squares and rectangles. Backing of plain fabric. Machine stitched on a treadle machine.

This hand pieced and hand quilted hexagon quilt is in a pattern often called 'Grandmother's Flower Garden'. The background is white and there are concentric rows of double rosettes each with a yellow centre. The colours start in the centre of the quilt with pink and then follow the rainbow. Paper templates were used. The padding is cotton (American) and the backing is cotton floral poplin.
2360 x 1730mm

Cotton scrap quilt with shapes of diamonds, strip and squares. The quilt has been repaired using machine zig zag in white cotton. There is no padding and the backing is calico.
2175 x 1625mm

Patchwork quilt of square and rectangular patches, mainly in cotton fabrics, in plains and prints. Colours are predominantly yellow, pinks, blues and prints on white. Backing is the same except there is a piece of patterned curtaining material as a patch across the middle width. Padding is old blanketing.
1830 x 1140mm

Hand sewn patchwork quilt with a pattern of blue stars. Each star consists of hexagons in the centre with part diamonds forming the star shape. The quilt is made from scraps. It is not padded and the backing is cotton and has a hexagon star border. 2660 x 2470 mm

Patchwork quilt made from squares of woollen fabric scraps from dressmaking. Squares are stitched together in no particular order. Colours are bright, with pink, yellow, green, brown and light blue predominating. Fabric is plain, checks and stripes. No padding or quilting. Backing is a cotton bedspread, striped in pinks and magenta.
2530 x 1640mm