Quilt No.978NGA - National Gallery of Australia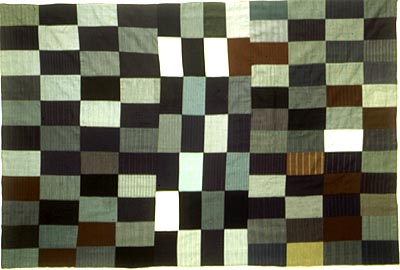 Owner:
National Gallery of Australia
Description:
" Reversible patchwork quilt of woollen suiting in grey, blue, navy, maroon and brown. The fabrics appear to be new tailor's sample pieces (the sizing is still present on the fabric, signifying it has never been washed). The patches are rectangular and vary in size. Both sides have different designs. The front of the quilt has 4 rows of 12 vertical rectangles then below this are 4 rows of 7 horizontal rectangles followed below by 4 rows of 11 vertical rectangles. The reverse of the quilt has a section at the top and bottom composed of 5 rows of 9 horizontal rectangles. The central area...
History:
"Caroline Mary West (Australia 1872-1947) made this quilt near Trundle, New South Wales. Florence Rose Burbridge. The artist's granddaughter, donated this work to the National Gallery of Australia in 1988." [NGA]
Related Quilts:

Patchwork quilt made from rectangles and squares of woollen fabrics from dress making projects. Colours are mainly grey, blue, brown, green, with some red and yellow. Fabrics are plain, cheks and stripes. No padding or quilting. Backing is made of white flannelette sheets. The quilt has been lengthened after it was completed, and the backing sheet has been added to at the same place.
2470 x 1320mm

Double sided frame quilt. All reused materials including corduroys, wools and light weight suitings. Machine made and not quilted There is no padding as already heavy and warm.
1780 x 1530mm

Patchwork quilt made of approx. 730 Suffolk Puffs, using mainly cotton materials in florals and plains. Each puff is 45mm diameter. The quilt centre has a square of 16 pink puffs outlined with a single row of blue puffs. Each corner of the quilt has a square of 9 puffs in a single colour. No padding. Quilt is edged and backed with a red and white tartan cotton.

Double sided square quilt mainly in cottons. Side 1 has been made in 4 squares each consisting of different sized strips and rectangles. With side 2 there appears to have been 2 stages as if the quilt was extended perhaps to match side 1. It is also squares, rectangles and strips. Sparsley machine quilted. There is no binding but side 2 has been turned over to side 1 and stitched by machine.
1525 x 1525mm

The body of this quilt is hexagons. This centre piece is surrounded by an applique border of birds and flowers and donkeys on see-saws. The flowers have been elaborately pieced from a great variety of materials. Some of the birds have pres studs for eyes.

Double sided quilt made from woollen suiting pieces some of which have hand worked eyelets. Many of the rectangles are irregular. Both sides use similar pieces but arranged in different patterns. There is no padding.
2160 x 1524mm