Buda Historic Home and Garden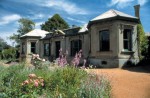 Buda Historic Home and Garden is one of the great heritage assets of the Victorian Goldfields region. The gracious historic home, built in 1861, is surrounded by 1.2 hectares of garden noted as being one of the most significant of its era surviving in Victoria.
Address:
42 Hunter Street, Castlemaine VIC 3450, Australia
Tel:
+61 03 5472 1032
+61 03 5472 1032
Hours:
Wednesday to Saturday 12 noon - 5pm
Sunday 10am - 5pm
Closed: Good Friday & Christmas Day
Admission:
Adult $9; Concession $7; Child $4 (5yrs and under free); Garden Only $5; Family and Group Discounts Available
Facilities:
Guided Tours; Giftshop; Plant Nursery; Functions Venue; Brochure & booklet; Education & Volunteer Programs; Wheelchair Access.
Collection:
The house contains the Leviny family's largely intact collection of art and craftworks, household furnishings, domestic objects, photographs, documents and personal belongings.