Grainger Museum, University of Melbourne
The Grainger Museum was established in the 1930s by the prominent Australian-American composer, pianist, folklorist, educator and collector Percy Aldridge Grainger (1882-1961).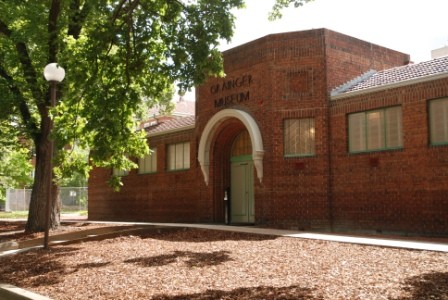 Grainger's extraordinarily full life also included pioneering work as a folk music collector and arranger, educator, social and musical commentator, clothing designer and Free Music inventor. He was a skilled linguist and became known, in addition to his musical accomplishments, for his forthright opinions on many subjects.
Grainger preserved the evidence of his creative life - his archive, personal library and many of his possessions - in his Museum or 'Past-hoard-house', purpose-built on the campus of the University of Melbourne.
Address:
Royal Parade, near Gate 13, Parkville campus, University of Melbourne VIC 3010, Australia
Hours:
Grainger Museum opening hours:
...
Facilities:
The Grainger Museum re-opened in October 2010 after an extended closure for conservation works to the heritage building, and upgrading of facilities for the collection, visitors and staff. The new suite of exhibitions explores Grainger's life, music and milieu.

Percy's Cafe is open Monday to Friday, 8am to 5pm.

Researchers may access collection material by prior arrangement - email grainger@unimelb.edu.au Requested material is brought to the University's Cultural Collections Reading Room on Level 3 of the Baillieu Library.

Collection:
The Collection, which was created and installed by Grainger himself between 1935 and 1956, comprises over 100,000 artefacts including an estimated 50,000 items of correspondence.
This teaching and research collection of national and international significance encompasses music manuscripts and printed scores, instruments, artworks, costumes, decorative arts and furniture, ethnographica, photographs, 'Lust Branch' Collection, Percy Grainger's archive, archives and music of other Australian composers, archives of Australian musical culture, Grainger's personal library, and a sound archive.