Yalga-Binbi Institute for Community Development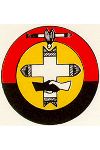 Yalga-binbi's main role is conducting community development consultancies and adult education in urban and rural settings. It is part of Shalom Community Development Services along with Shalom Teaching College (indigenous p-12 school), Elders Village, construction company etc, all set up by VAICC
Address:
Hervey's Range Road,, Condon, QLD
Facilities:
Informal display on walls and in perspex cabinets (purpose built) in reception area of administration building. Public access to meeting rooms. Some items stored in crates. Catalogue available
Collection:
Collected between 1993 and 1996 (with some earlier works) Made with Meaning is a survey of the contemporary artwork of the Aboriginal people of Far North Queensland. Work comes from rural towns and remote communities of Cape York Peninsula, Gulf Country and rainforest cultures and environments. The collection is mostly three dimensional, using traditional materials and methods, in a contemporary context.
Items
Painting
Shark and Dugong
Description:
Small painting in acrylic on masonite, stylised humans, sea creatures and artefacts, telling sharkman and dugong woman story. 40x40cm.
This painting tells a traditional story in a semi-contemporary form, encapsulating details of belief and lifestyle from Mornington Island.
Sculpture
Bonefish Story
Description:
Ceremonial Sculpture in wood, fibre and oxides. Consists of several fish shapes suspended from a rod which is balanced on 2 forked sticks. 130x130cmx25cm deep.
The sculpture was used for traditional dance ceremony, accompanied by singing of the story of bonefish, by Alpech men at Aurukun.
Bicornual Basket
Wular
Description:
Basket twined in split lawyer cane, the base with two distinct "horns", a round opening and a thin strap attached to the top at rear. Size 30x56x21cm deep
Made by Jumbun by Djirribal people, the basketry tradition was related to gift exchange and food gathering, storage and processing. The tradition is revived by contemporary artists
Shield
Water-Skater
Description:
Oval wooden shield, convex front painted with design in acrylic, concave reverse with carved handle, size 95x45x10cm deep.
Shields used by rainforest people for battle and ceremony, along with wooden swords. Traditional materials and methods revived by contemporary artists in FNQ
Fishing Nets
Knotted Fish Hoops
Description:
Pair of hand held nets, each one an oval of hand spun string, knotted into net and stretched around loops of flexible timber sapling or vine
Made at Kowanyama, these nets were fashioned from bush materials (bark fibre) to use for bait fishing. The method is applied today by contemporary artists for cultural reasons