Quilt No.1033NG - Narelle Grieve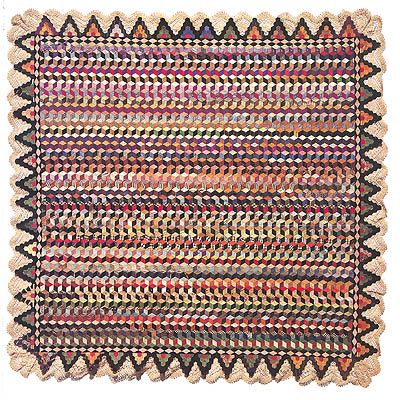 Description:
Silk quilt in diamonds with hexagon border. "Toward the edge of the quilt, the design of diamonds made into blocks offers an optical illusion, where the diamonds can be seen to form stars. The border is made up of these stars and half-diamonds, and the entire quilt is trimmed with lace and triangular flaps made of tiny hexagons." [extract unidentified magazine article supplied by quilt owner.]
The backing is maroon cotton. 1600 x 1600 mm.
History:
The quilt was made by an unidentified sailor c.1846. It was given to Jane Williams of Somerset, England who backed it and sent it to Australia to Annie Smith, her sister-in-law in Sydney. It then passed by family descent to Annie's grandson, John Henderson of Middle Cove, Sydney from whom the present owner, Narelle Grieve, acquired it. It is not used.
Story:
"It was not unusual for the European sailors of previous centuries to engage in the art of quilting. They needed to be able to sew in order to mend their sails, and quilting was a way of passing time while developing their sewing technique. Most sailors were talented needle people, as the fine stitches and intricate design of this quilt demonstrates.
Many of the lands which the sailors visited offered exotic fabrics and the silk used to make the tiny diamonds in this quilt may have originated in India. Papers still contained within the hexagons around the border of the quilt may be able to verify the origin of this fabric. This may also give some insights into the sailor's life and travels, but Narelle explains that she would have to unpick the backing to get to them and that could ruin the frail silk fabric." [extract from unidentified article supplied by the present owner.]
Related Quilts:

Cotton quilt made from squares of patterned and plain materials. It has a mauve cotton flounce around the border and a mauve cotton backing. There is no padding.
2700 x 1350mm

Quilt has a centre panel of white velvet roses and green leaves with embroidered spider webs, on red velvet. Two side panels are in crazy patchwork in plain and patterned silks and velvets. All patches are edged with feather, herringbone or blanket stitch. Many patches are embroidered, including 'Minnie', 'Good Luck', birds, flowers, anchor, boat, fish, shell, spider web, crown,, 2 crossed flags, tennis racquets, Australian motifs including wattle. The centre panel has a row of ruched olive green ribbon each side and the whole quilt has a border of dark blue velvet. The padding is cotton wadding and the backing is cream cotton printed with red and pink chrysanthemums and green leaves.
2113 x 1995mm

" A wide range of cotton fabrics have been used to make this quilt in the traditional log cabin style. The strips of the log cabin are joined by rows being hand sewn onto a small square backing fabric, each square of strips has then been hand sewn together to form the quilt. The work is backed with a sateen printed fabric decorated with paisley design. A strip of the lining trims the edge of the front face of the quilt. The lining is attached with machine stitching. There are numerous tacking stitches that remain in the front face of the quilt. There are approx 9000 pieces in the quilt, most being only 5mm in width.
The quilt is of three layers because the strips of the log cabin are attached to a backing piece, and then the quilt is lined; however it is not padded." [NGA]

Hand pieced log cabin quilt in silks, satins and velvets. There is a silk backing machined on, possiby a later addition. The quilt has over 5000 pieced.
1820 x 1680mm

Medallion style all cotton quilt made in the USA. Hand pieced with centre panel of 'cheater' material pre printed in a patchwork design. Bordered with 'Nine Patch' and sashing. The backing is printed cotton and the padding is cotton. The quilt has yellow tufting or ties in wool.
1855 x 1525mm

Quilt of hand stitched cotton hexagon patches, the hexagons are in groups of 7 to form flowers, with white or cream 'paths'. The quilt centre has 19 flowers grouped within a single hexagon border of brown and red patches. In each corner of the quilt there are 6 flowers grouped around a larger flower within a single border of darker print hexagon patches. Backing is cream cotton, machine stitched to the top. There is no padding or quilting. Some fabric patches have deteriorated.