Quilt No.1038KC - King Cottage Museum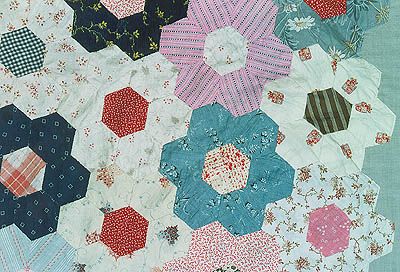 Description:
Hand sewn hexagons over paper templates in a pattern known as 'Grandmother's Flower Garden'. Materials are printed dress cottons, patterned and plain, mainly in pinks, blues and browns. The border and backing is grey linen and is machine stitched on. There is no padding. 2060 x 1579 mm.
History:
The quilt was made by Rose Elizabeth Walker (born Carey) in about 1897. Rose married John Walker, a lawyer, in 1902. The quilt was donated to the King Cottage Museum by Mrs. Edwin Eastman. It is displayed occasionally for brief periods.
Related Quilts:

Red and white cross stitch quilt. Central white panel with red cross stitch embroidery featuring flowers and leaves. Red panels as borders with white embroidery, also flowers and leaves. Machine pieced. Hand quilted in an espalier pattern. There is a fine padding and the backing is homespun. 2200 x 1970mm

Small quilt made from pieces of heavy weight wooollen coat material cut into strips and machined together. It is reversible. Each side is made from different materials but in similar colours of aqua, blue, green and beige. The 2 layers are quilted together with a few machined lines of straight stitching. It has a folded and machine stitched edge. There is no padding.
950 x 790mm

Wholecloth quilt originally covered with cretonne and recovered with orange satin. Machine quilted. Padding of wool.
1270 x 1160mm

Cotton quilt, checks, plains and patterns. Machine construction. Rectangles stitched together in strips and then strips joined. The backing is a cotton print. There is no padding and no quilting.
2420 x 1220

Quilt made of tailors' swatches, machine constructed around a central frame that is mainly mid brown pieces. This is surrounded by rectangles of mainly charcoal greys and the outer border is navy blues. The backing is a heavy cotton with random green and cream and grey stripes.
1651 x 1220mm

Patchwork crazy quilt in velvets and silks, no pieces over 4" long. Colours are black, maroon, pinks, blues and pastels, and all seams embroidered with coloured silks in herringbone stitch. Backing is green, there is no padding. Quilt is bound with black velvet 1/2" wide. A patch near the centre is embroidered: '1909' and '1948'.
940 x 915mm