Quilt No.103QWH - The Queensland Women's Historical Assoc.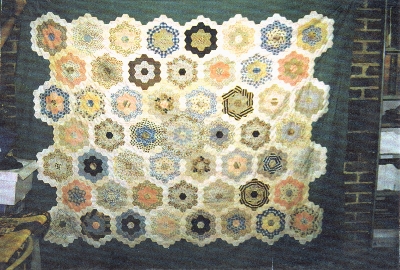 Description:
Hexagon rosettes of printed and plain cotton in a flower pattern. Incomplete, top layer only.
2439 x 1981mm
Related Quilts:

Patchwork quilt made from hexagon patches in silks and rayons, in pinks, blues, red, yellow mainly, with pastels. No padding. Bordered and backed with green satin.
1829 x 1372mm

American quilt in 'Dresden Plate' pattern. Hand stitched, Wide variety of cotton materials used in plain and patterned materials. The backing is cream cotton. It is hand quilted. This quilt was made from an American McCalls pattern consisting of transfers for the pieces and for the quilting design.
2400 x 1700mm

A frame quilt with a pattern using hexagons from crepe de chine and silk material. The centre frame consists of a blue rosette of hexagons surrounded by six rosettes or flowers all with black centres. These are surrounded by rows of hexagons and then a row of flowers and then more hexagon borders. The owner refers to the pattern as 'Grandma's Garden'. 2550 x 2550 mm

Log Cabin quilt made from a variety of cottons and silks. There is no padding and the backing is calico bags. 1500 x 1250 mm.

Patchwork quilt made from brightly coloured printed cotton fabrics in hexagon patches hand sewn together in rosettes, and stitched by machine onto a border of bright teal blue fabric. Fabric scraps for the patchwork were donated from friends. No padding. Backing is polished cotton curtain lining.
2312 x 1969mm

Quilt made from blocks in a fan pattern, 5 blocks across by 6 down. Fans are set on a black background, materials are wool and cotton in a mixture of plains and patterns. Edges of fans are decorated with cream herringbone stitch. Machine pieced with hand stitched repairs.Cream cotton backing folded over to make binding, stitched with pink herringbone stitch. Tied regularly with pink thread. The quilt is padded with wool.
2000 x 1720mm