Quilt No.910CD - Celia Dolley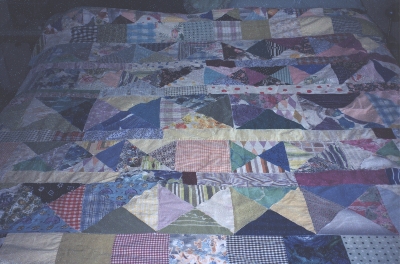 Description:
Cotton scrap quilt with shapes of diamonds, strip and squares. The quilt has been repaired using machine zig zag in white cotton. There is no padding and the backing is calico.
2175 x 1625mm
History:
The quilt was made in the 1960s in Bundaberg Queensland by Kate Cameron (born Kelly). It was then owned by Beth Cameron her daughter-in-law (born Sharp) and now belongs to Celia Dooley (born Cameron.) It is not used now.
Story:
Kate Cameron (1889 - 1975) was a qualified seamstress, trained at the convent in Gladstone. She went out to people's houses and sewed for 2/6 a day. She made trousers for her 3 boys until they were teenagers. Kate was also a tailoress and was skilled at embroidery and crochet. She made her own wedding dress.
The scraps used for the quilt came from Mrs. Byers a dressmaker in Bundaberg Queensland.
Related Quilts:

Quilt with log cabin blocks forming centre rectangle with border of crazy patchwork, in silks and velvets, handsewn on to backing of blue, beige, white woven cotton. Log cabin blocks are in rich dark and light rows forming diagonal stripes. The crazy patchwork has edges decorated with yellow and cream feather stitch. Mostly plain materials with some checks and stripes. The quilt appears to have had the edges cut down. The outer border is a dark blue figured velvet. There is no padding and the backing is maroon silk with a woven yellow motif.
1655 x 1215mm

Single bed quilt hand pieced from silk hexagons using the English method. The border, backing and central rosette of hexagons are black. All other hexagons are a mixture of plain colours, stripes and florals. They are randomly placed. It is quilted in a diamond pattern. The padding is a thin cotton woven material.
1550 x 1330mm

This is one of two single bed quilts in a pattern the owner calls 'Martha Washington's Flower Garden'. Flowers are in six hexagons in a variety of prints with a plain coloured centre. The background is cream, and the backing is calico. 2500 x 1800 mm.

Patchwork quilt made from diamond patches in the 'Cotton Box' pattern, in a wide variety of cotton fabrics, including plains, checks, stripes and florals. The patches have blotting paper templates. The quilt is edged with diamond shapes in a red floral cotton. The backing is of the same red floral pattern, featuring yellow, turquoise and white flowers and leaves. Hand sewn.
2135 x 2033mm

Wholecloth quilt originally covered with cretonne and recovered with orange satin. Machine quilted. Padding of wool.
1270 x 1160mm

Small square piece of crazy patchwork in silks and taffetas. Many of the seams are oversewn with decorative embroidery stitches. There is a calico backing.
550 x 550mm