Quilt No.1056PJN - Peter and Jan Newman
Description:
Suffolk Puff quilt with puffs mainly in patterned cotton pieces saved from 60 years of household sewing. Puffs are formed into rosettes and the holes are on the top making a decorative feature. It is hand sewn.
2700 x 2400mm.
History:
The quilt was made by Dulcie Alma Tobin at Mount Lawley WA in the early 1970s using scraps of material saved from the 1920s to 1970. Dulcie had the quilt until she died in 1988 and it then passed to her grand-daughter Jan Newman. It is still used and is Jan and Peter Newman's summer quilt.
Story:
"Dulcie Alma Tobin: (born in Northam, 1897), saved all the material 'leftovers' from 60 years of household sewing and when she was in her mid seventies, began to stitch them into this quilt.
She was assisted by family - husband Jack threaded all the needles (80 at a time, stuck in a pincushion to keep her going), sister Beatty and daughter Dulcie helping to cut and iron the patches. All the sewing and arranging was done by Dulcie Tobin, despite rapidly failing eyesight. She was 84 years old when it was completed, and so they were able to use it on their bed for a few years before Jack died (1986) and Dulcie moved to the Braille Nursing Home. She died in 1988, shortly after handing the quilt on to her granddaughter Janice Newman." [Jan Newman]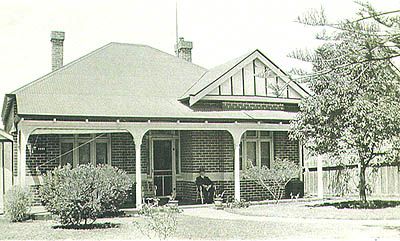 Related Quilts:

The top of this utility quilt is machine pieced rectangles of woollen materials joined in strips. It includes corduroys and velveteens and woollen tartan. The backing is an Indian cotton blanket.
1651 x 1271mm

Machine pieced cotton quilt, in random design of geometric pieces. Materials used are cotton sheeting, dress fabrics, broderie anglaise, and seersucker. There is no padding, and backing is white curtain lining.
1540 x 1150 mm.

Pieces of heavy woollen material have been strip pieced and then joined. The joined pieces have then been folded over and restitched along the sides to make a double sided quilt. It is very heavy.
1830 x 1400mm

Pieced patchwork quilt of hexagons in cottons, chintzes and linen. The centre is pieced in 6 point hexagon stars, then radiating out are large hexagons alternating with tumbling blocks, then 6 piece hexagon stars and 4 piece hexagon diamonds. Some pieces have Egyptian patterns dating from 1800 - 1805. The backing is cream linen.
2450 x 2200mm

Machine constructed log cabin quilt using a wide variety of strips of used clothing including cottons, men's suitings and wools. Each square is about 250mm and arranged in the 'light and dark of the fire' variation of log cabin. There is no padding. The backing is brown twill with an orange pattern and is probably a replacement backing.
2180 x 1710mm

Patchwork quilt made of approx. 730 Suffolk Puffs, using mainly cotton materials in florals and plains. Each puff is 45mm diameter. The quilt centre has a square of 16 pink puffs outlined with a single row of blue puffs. Each corner of the quilt has a square of 9 puffs in a single colour. No padding. Quilt is edged and backed with a red and white tartan cotton.