Quilt No.1093RD - Rhona Dunwoodie
Description:
Block pattern consisting of a circle, hexagon and circle within a square. Cotton dressmaking fabrics with a few plain creams. Hand pieced and hand quilted. At some stage has been machine reinforced. Now faded, worn and damaged especially one end. Quilting pattern is four leaf clover inside large cable. The backing is 4 different pink toned fabrics in longitudinal stripes. Cotton batting. 2620 x 2300mm
History:
The maker is unknown but it was made in the north of England in the Durham area and was owned by the present owner's mother. It was brought to Perth WA in 1992. It is not used now.
Story:
"This quilt unfortunately was not appreciated. During the time a prize bull was sick it was removed from my brother's bed to keep it warm until the vet arrived. At that stage it was in perfect condition. This was at Myton House Farm Ingleby, Barwick. At this stage it was still in perfect condition (early 1951). 20 years later it was used as packing when the farm was transferred to Northallerton Yorkshire. It was then transported to Perth Scotland with some cattle. From Perth Scotland it was brought to Perth Western Australia in 1992." [Rhona Dunwoodie WA]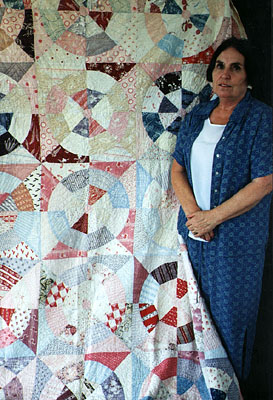 Related Quilts:

Pieced patchwork quilt of hexagons in cottons, chintzes and linen. The centre is pieced in 6 point hexagon stars, then radiating out are large hexagons alternating with tumbling blocks, then 6 piece hexagon stars and 4 piece hexagon diamonds. Some pieces have Egyptian patterns dating from 1800 - 1805. The backing is cream linen.
2450 x 2200mm

Suffolk Puff quilt with puffs mainly in patterned cotton pieces saved from 60 years of household sewing. Puffs are formed into rosettes and the holes are on the top making a decorative feature. It is hand sewn.
2700 x 2400mm.

Patchwork quilt in Log Cabin pattern, arranged in 'furrows', and made from cottons, wool and suiting fabrics. Centres of blocks are pastel or dark; dark colours are black, brown, purple blue and red. Pastel side of blocks includes a bright pink. Quilt backing is pieced, with a centre rectangle of cotton surrounded by 5 borders of plain and alternate rectangular pieced strips, in wool and suiting fabrics. Colours are black, dark blue, brown, green, grey and pastels. Inner lining is of cotton pieces, to which the Log Cabin blocks have been machined.
1620 x 1360mm

Quilt with alternate red and white diamonds in cotton, with wide border of white cotton and a white cotton crochet edging. All diamond patches and edging were joined to white border decorated with feather stitch. White border edged with zig-zag white feather stitch. Centre rectangle of white has 4 red petals edged with white feather stitch and 4 red diamonds each embroidered in white clockwise: '1898', 'R', 'L', 'K'. Diamonds edged with feather stitch. There is no padding and the backing is white cotton.
2420 x 1740mm

Patchwork cot quilt top made from cotton hexagon patches, featuring a centre rosette with 7 rows of patches around it forming an elongated shape, with rosettes and patches randomly placed on the sides. Quilt has a border of triangles pieced to form squares. Cotton prints with over 50 different patterns. Colours are faded, with red and brown (may be faded green) and mostly pastels. Hand sewn using whip stitch. No padding or backing.
990 x 825mm

Patchwork quilt made from hexagon patches on one side, and squares and rectangles on the reverse. Cottons are used, mostly from dressmaking, in bright and light colours. The hexagons form an indented edge on all sides; on the back the rectangles have been cut at the edge to match the hexagon shapes. Hand sewn, the edge machine sewn.
No padding.
1551 x 1373mm