Quilt No.1093RD - Rhona Dunwoodie
Description:
Block pattern consisting of a circle, hexagon and circle within a square. Cotton dressmaking fabrics with a few plain creams. Hand pieced and hand quilted. At some stage has been machine reinforced. Now faded, worn and damaged especially one end. Quilting pattern is four leaf clover inside large cable. The backing is 4 different pink toned fabrics in longitudinal stripes. Cotton batting. 2620 x 2300mm
History:
The maker is unknown but it was made in the north of England in the Durham area and was owned by the present owner's mother. It was brought to Perth WA in 1992. It is not used now.
Story:
"This quilt unfortunately was not appreciated. During the time a prize bull was sick it was removed from my brother's bed to keep it warm until the vet arrived. At that stage it was in perfect condition. This was at Myton House Farm Ingleby, Barwick. At this stage it was still in perfect condition (early 1951). 20 years later it was used as packing when the farm was transferred to Northallerton Yorkshire. It was then transported to Perth Scotland with some cattle. From Perth Scotland it was brought to Perth Western Australia in 1992." [Rhona Dunwoodie WA]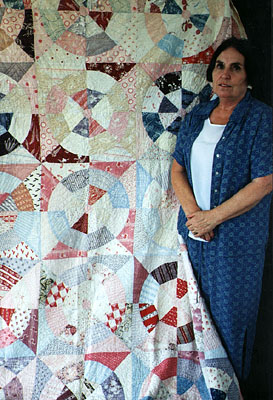 Related Quilts:

Double sided quilt with both sides based on a central frame. One side has centre panel of darks surrounding 4 patch of the same print in different colourways. This is surrounded by borders of rectanglesis small prints, checks and stripes. The outer border is men's suitings. The other side has a centre frame similar to the 'Broken Dushes' pattern surrounded by wide borders in solid colours, paisley and fine checks. There is a dark strip across the top and bottom. It is roughly machine quilted.
1770 x 1380mm

Frame quilt with central square of fabric around which the borders or frames have been added in strips. The fabrics are mostly floral, a heavy weight similar to damask or curtaining. The colours are mainly beige, brown, green and red. The original backing was a red paisly design. A second backing, of red, brown and yellow leaves on white (possibly dating from 1930s), has been added at a later date. Quilt is bound with brown fabric.
2200 x 2000mm

Dresden plate quilt with pointed pieces set around a white centre. Fabrics are checks, floral patterns and plains of the 1930s. The twenty blocks are sashed with plain mauve fabric which does not meet evenly in some places. The padding is two layers of cotton bedspreads. The backing is open weave rough quality cotton.
1860 x 1550mm.

Cotton log cabin double bed quilt. Each square has 52 pieces (i.e. 13 pieces x 4 to make a square). There are 192 squares so a total of 10.092 pieces. There is probably no padding. The backing is calico with a floral pattern done in running stitch.
2200 x 2200mm

Hexagon quilt made by hand from a wide variety of cotton materials. There is no padding and the backing is calico.
2286 x 915mm

Patchwork quilt made from brightly coloured printed cotton fabrics in hexagon patches hand sewn together in rosettes, and stitched by machine onto a border of green moire taffeta. No padding. Backing is green cotton satin curtain lining. There is a matching pillow sham.
2591 x 2540mm