Quilt No.1114JH - Jan Hanslow
Description:
Hexagon quilt with 60mm hexagons in cottons. No particular design or pattern. Patches are plain and patterned in reds, blues, pinks, browns and greys. There is a 70mm wide lace trim. The quilt is padded and the backing is wholecloth green with a floral design in pink and cream. 1860 x 1640mm
History:
The quilt was made by Grace Nicholas in 1853 on board the 'Monteagle' between England and Australia. Grace (married name Cole) passed it to her daughter, Mary Jane Williams (born Cole) and it then went to her daughter Grace Williamson (born Williams). From Grace the quilt went to the parents of the present owner as William Harold James Cole was a cousin of Grace Williamson.
Story:
"Grace Nicholas was born in Lelant, Cornwall on 20.2.1834. After her father died in 1849, her mother lost possession of the family farm (it passed to another male member of the Nicholas family). Her mother Mary Nicholas (nee Travener) migrated to Melbourne with her 7 children aged between 24 and 8. They came on the
'Monteagle', arriving on 12.4.1853. There were 52 deaths on board. Grace married Arscott Cole of Clawton, Devon at St. James old cathedral on 30.9.1854. Grace and Arscott Cole (blacksmith) lived at Darebin Creek where 7 of their children were born. Their 8th child was born at Yan Yean in 1873. Arscott was at that time working at Hazel Glen farm in Doreen (owned by the Reid family). Around 1876 the family moved to Waggarandal where they had a farm and also a smithy which was on the corner of the Benalla-Tocumwal Rd and the St. James road. In the 1890s they moved to Lardner, Warragul where they probably lived with their daughter Mary-Jane Williams or their son Samuel Cole... For some time my mother had the quilt on a bed in the 'spare' room. My father died in 1983. My mother remarried and moved to another house, the quilt at that stage going into 'storage'. She passed it on to me just recently." [Jan Hanslow 4.2.2002]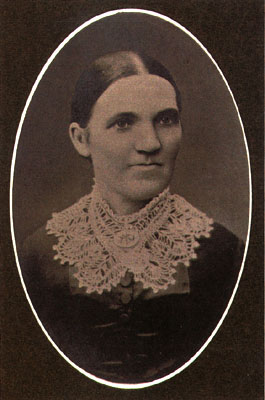 Related Quilts:

Quilt of over 6000 suffolk puffs (also called yo yos) in a mix of cotton and synthetic materials. The top is hand stitched on to a satin backing.
2413 x 1626mm

Quilt in a wide variety of patterned and plain hexagons in cotton with a wide green border. There is no padding and the backing is cotton.
2500 x 2200mm

Yellow and white cotton Durham quilt with centre panel of patchwork blocks in counterchange design called 'Plate'. There is a wide yellow border and square white corner blocks. It is padded and there is a yellow backing. It is quilted all over following the patchwork pattern in the centre panel. Feather pattern border.
2120 x 1720mm

" Reversible patchwork quilt of woollen suiting in grey, blue, navy, maroon and brown. The fabrics appear to be new tailor's sample pieces (the sizing is still present on the fabric, signifying it has never been washed). The patches are rectangular and vary in size. Both sides have different designs. The front of the quilt has 4 rows of 12 vertical rectangles then below this are 4 rows of 7 horizontal rectangles followed below by 4 rows of 11 vertical rectangles. The reverse of the quilt has a section at the top and bottom composed of 5 rows of 9 horizontal rectangles. The central area is made up of a centre section of 6 rows of 5 vertical rectangles; flanked on either side by a column of 10 horizontal rectangles and two columns of 8 smaller vertical rectangles.
The patchwork layers are joined at the edges with machine stitching. The patchwork layers and padding are machine quilted on the front down 2 vertical lines following joins in the patchwork; therefore not being totally straight. The lines are more noticeable on the reverse as the 2 sides do not match. The front face is displayed at the NGA.
Between the patchwork layers is a striped cotton blanket in black, sky blue, white and cream." [NGA]
2082 x 1386mm

Hand stitched unfinished crazy quilt with patches placed around a centre hexagon pieced in log cabin type strips. Materials are mainly silks and satins and pieces are mounted on grey cotton material. Seams are overstitched in herringbone stitch. 1520 x 760mm

Quilt based on 70mm block. Cottons and rayon's with some reused materials. Machine pieced, hand quilted. Backing is mid blue cotton brought over to the front and machined to form a binding. Padding is probably cotton.
2510 x 1850mm