Quilt No.434BB - Mary Elizabeth (Beth) Burnett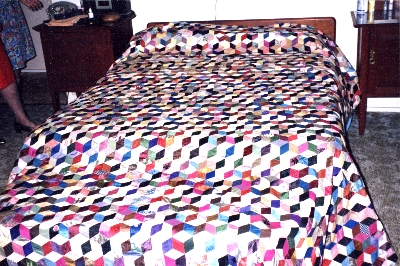 Owner:
Mary Elizabeth (Beth) Burnett
Description:
Tumbling Block quilt made from pure silk ribbons, patterned and plain. The quilt edge follows the block shapes. The backing is polished cotton printed with flowers.
2743 x 2439mm
History:
The quilt was made in England 'around 1840 or before' by Mrs. Coupe and owned by her. Then owned by her daughter Mary Elizabeth Coupe, then her son George Lockington, then Mary Golden (born Lockington), then Mary Elizabeth Burnett (born Golden) and the quilt will be inherited by Georgina Mary Worsfold (born Burnett). It is not used.
Story:
This quilt was used as a fund raising project 'count the number of boxes' for the Red Cross in the 1914-18 war. It is thought this took place at Heledon near Toowoomba Qld.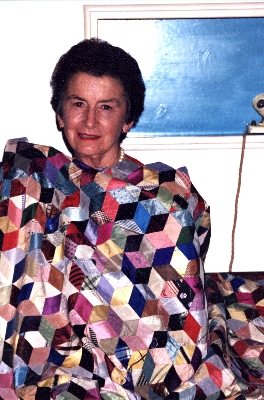 Related Quilts:

Patchwork quilt in the Tumbling Block pattern in light and dark silks in bright colours. On both sides and at the bottom is a wide border in Tumbling Blocks, the pattern vertical at the sides and forming a triangle centre bottom, with an edge on both sides of two black bands with pieced diamonds between. Made for a poster bed. Hand sewn.
1790 x 1750mm

Patchwork quilt made from squares of cotton prints in florals, stripes, spots and checks, joined together in rows. Colours are predominantly blues, reds, yellow and pastels. Binding is of turquoise blue fabric. Materials appear to be from the 40s or 50s. Patches caught in the middle with a woollen knot - red, yellow, blue wool. No quilting. Backed in blue fleecy flannel.
Single bed length and width.

Quilt of over 6000 suffolk puffs (also called yo yos) in a mix of cotton and synthetic materials. The top is hand stitched on to a satin backing.
2413 x 1626mm

"A single bed cover made up of squares and recrangles of woollen fabric pieced together by a Vicker Sewing Machine from Myer Melbourne. The fabrics are either new (left over scraps) or used (unpicked woollen garments). The backing is an old (used) candlewick bedspread. There is no padding. It is faded and worn due to being used for other purposes later. There is a 66 cm high clown that ahs been appliqued on mainly by hand using blanket stitch. It is also made from scraps of fabric. The hands were cut from an old felt hat."
2400mm x 1660mm

Machine made cotton quilt with 100mm cotton squares placed diagonally with peaks running around the edge. The colours are mainly autiumn tones and the patterns include checks, tartans, florals, geometric and plains. Materials were scraps left over from sewing projects such as children's clothes. There is a matching valance.

Yellow and white cotton Durham quilt with centre panel of patchwork blocks in counterchange design called 'Plate'. There is a wide yellow border and square white corner blocks. It is padded and there is a yellow backing. It is quilted all over following the patchwork pattern in the centre panel. Feather pattern border.
2120 x 1720mm