Quilt No.182RF - Ruth Flett
Description:
Quilt is made of wool tailors' samples, each measuring 6 x 3 1/2 inches. The colours are predominantly navy and grey. Most pieces are striped but some more distinctly than others. Both sides are mad eof smaples, one side being mainly grey and the other almost exclusively navy. There doesn't seem to be another layer of material as padding. There is no added decoration. Made on a treadle sewing machine.
1703 x 1423mm
History:
Made by Mrs Lilian Boulton, Condobolin (NSW). Owned by her daughter Ruth Fleet.
Story:
"My mother was born on 11/12/1896 so would have been 100 years old this year. She was a keen needlewoman & enjoyed competition in local shows etc."
Letter from Ruth Fleet:
"You ask whether the quilt was in general use on beds in the house at Condobolin - I think it was used more as an optional extra, & is in very good condition. As to where my mother got the tailor's samples - as I recall it she found them in a strange old shop in Condobolin - known as Old Bill's Junk Shop to all and sundry. She was quite excited at her discovery & had plans for it at once. It was a time of 'make do'. There was always a section in the local show schedule for the best article made from a sugar bag!"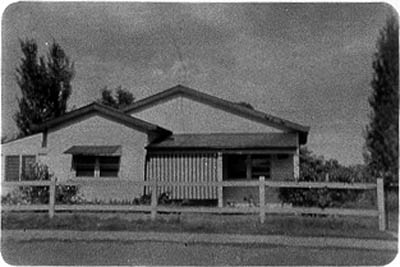 Related Quilts:

Patchwork quilt has three centre squares, one in blue/white/brown in a cross pattern, one in framed square, one with diagonal strips in a pink frame. The rest of the quilt is made from strips of rectangles in different sizes sewn in rows. There is a narrow pieced frame, then an outer border of pieced rectangles. Mostly pastel colours. No padding. Backing is calico. There is a little embroidery.
2160 x 1601mm

Cotton quilt with rosettes of hexagons. There is a centre hexagon with a surround of 6 hexagons in a contrasting pattern and then an outer row of 12 hexagons in a different pattern. Between each rosette is a single row of hexagons in a print common to the whole quilt. The materials are typical of the 60s period. There is a deep aqua border. It is machine quilted. The backing is cotton.
2515 x 1829mm

Pieced repeat block, hand pieced over papers in a diamond pattern. Blue patterned border. There is no padding and the quilt has been recently backed with calico. The 2 layers are tied together. 2240 x 1830 mm.

Utilitarian cot quilt. The padding is layered reused woollen materials, parts of old blankets, part overcoats. These are stitched together with string and knitting wools The top and backing are printed cotton. There is a frill all around and buttons have been used to anchor the padding layers to the outside cover.
1169 x 915mm

Hand pieced and quilted quilt in silks, wool and cotton dress materials. The centre is a hexagon star in pink and yellow with black points. Most of the body of the quilt is pieced in Tumbling Blocks with an outer border of triangles. The backing is pieced from large rectangles of blue satin, rust-brown moire taffeta and brown-grey silk in a 'rectangle within a rectangle' pattern. The quilting is all over and finely done in yellow thread in a variety of patterns including snails, petalled flowers and hearts.

Patchwork quilt in the Log Cabin pattern, made from cotton fabrics in prints and plains in bright colours. There are 185 squares, all sewn on to check gingham. No padding. Backing is of black cotton.
2718 x 2540mm