Quilt No.182RF - Ruth Flett
Description:
Quilt is made of wool tailors' samples, each measuring 6 x 3 1/2 inches. The colours are predominantly navy and grey. Most pieces are striped but some more distinctly than others. Both sides are mad eof smaples, one side being mainly grey and the other almost exclusively navy. There doesn't seem to be another layer of material as padding. There is no added decoration. Made on a treadle sewing machine.
1703 x 1423mm
History:
Made by Mrs Lilian Boulton, Condobolin (NSW). Owned by her daughter Ruth Fleet.
Story:
"My mother was born on 11/12/1896 so would have been 100 years old this year. She was a keen needlewoman & enjoyed competition in local shows etc."
Letter from Ruth Fleet:
"You ask whether the quilt was in general use on beds in the house at Condobolin - I think it was used more as an optional extra, & is in very good condition. As to where my mother got the tailor's samples - as I recall it she found them in a strange old shop in Condobolin - known as Old Bill's Junk Shop to all and sundry. She was quite excited at her discovery & had plans for it at once. It was a time of 'make do'. There was always a section in the local show schedule for the best article made from a sugar bag!"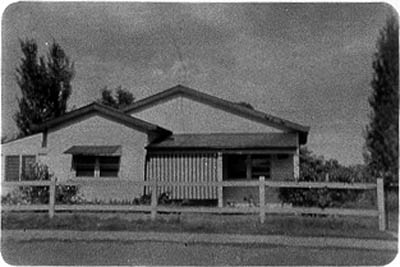 Related Quilts:

Hexagon quilt made from dressmaking scraps from one neice. The quilt top only is complete and a few papers are still attached.
2250 x 2000mm

Pieced wool quilt, machined. Rectangles and squares, from a wide variety of materials including tartans, checks, tweeds, herringbones, joined in strips and then the strips joined. The backing is scraps of woollen material with a seal motif aookiqued on. There is no padding.
1350 x 800mm

"This is not a true quilt, but a pieced coverlet with a lining. The entire front face of the quilt is of pieced hexagonal and part hexagonal printed cotton patches. Pieces are joined with hand sewn over casting stitches of many different coloured cotton threads. The joining of the patches forms a 'daisy' pattern in some areas and in others it is random. The edge of the front face of the quilt carries a 40mm strip of cotton Chinoiserie which is then folded to the reverse of the quilt and becomes part of the lining. The template for the hexagon patches remains in many of the patches: writing paper and news print." [NGA]
The work is not padded "The lining at the edge of the quilt (for approx.175mm) is a plain weave fabric of a Chinoiserie design. The centre field of the lining is a rectangular panel of a twill weave brushed cotton fabric with a striped floral design." [NGA] 2215 x 2070mm

Suffolk Puff quilt made from a variety of scraps of dress materials including cottons and terylene. It is backed with white cotton sheeting and edged with a frill of white terylene. There is a matching pillow sham.
1740 x 1300 mm.

The top is machine pieced patches of used clothing. The backing is large pieces of dress materials and either end patches similar to the top. The padding is a chaff bag or similar with patches of worn, matted children's jumpers sewn directly on to it.
1400 x 1150mm

" Reversible patchwork quilt of woollen suiting/upholstery fabrics in khaki, greys, blues and browns. Both sides have different designs. The front of the quilt has 13 rows of 12 vertical rectangles flanked on either side by a column of 22 horizontal rectangles. The reverse has a more interesting and complex design of small and very large rectangles, squares and triangles; with khaki contrasting with the duller greys and blues. The patchwork layers are joined at the edges with machine stitching and the quilt is machine quilted along 3 horizontal lines following joins in the patchwork; therefore not being totally straight. These lines are more noticeable on the reverse. The reverse face has been on display at the NGA." [NGA] There is a cotton blanket used as padding. 2054 x 1451mm