Quilt No.267JH - Julianne Humphris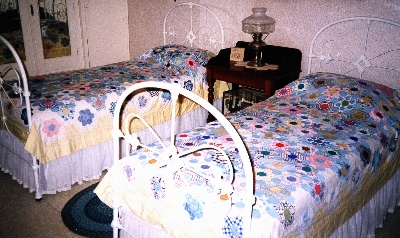 Description:
Patchwork quilt of hand sewn hexagons in a variety of print and plain cotton fabrics from 1950-1960. Colours are mainly pinks, blues, greens and yellow, with some red, and white. Quilt has a wide border of yellow poplin, which also forms the backing. No padding.
2280 x 1520mm
History:
Made by the owner, Mrs Julianne Humphris in South Australia. The quilt was started in 1960-1961 and took 2 to 3 years to finish. One of a pair.
Story:
The quilts have been in constant use since finished.
"I collected dress material scraps for years & quilts have pieces of first frock made for myself when 14 years old. Started handsewing hexagons after buying "Introduction to Patchwork" by Elizabeth McCosh, & "Patchwork Quilts" by Averil Colby followed - books I still have. Still enjoy sewing hexagons but also do machine piecing, applique & machine & hand quilting."
[Julianne Humphris]
Related Quilts:

Patchwork quilt made from brightly coloured printed cotton fabrics in hexagon patches hand sewn together in rosettes, and stitched by machine onto a border of green moire taffeta. No padding. Backing is green cotton satin curtain lining. There is a matching pillow sham.
2591 x 2540mm

This quilt is of hand pieced hexagons randomly placed and stitched on to a linen backing. They are mainly dress fabrics and chintz with some hexagon flowers in the centre and corners in broderie perse. There is no padding.
2600 x 2600mm

Patchwork quilt with diagonal arrangement. All cotton including cotton padding. Hand sewn and quilted.
2109 x 1702mm

Patchwork quilt made from hexagon patches in satin and nylon, the nylon overlaid on satin. Fabrics are plain, in a mixture of dark and light colours. No padding. Backing is of pink satin with pink satin ribbon covering the joining seams. Hand sewn with some machine stitching. Feather stitching along the edge. There is no padding.
2211 x 1752mm

Hexagon quilt in pattern known as 'Grandmother's flower garden'. Hexagons of prints and plains with yellow centre to each flower, and plain pink outlines. It is hand pieced and hand quilted. Padding is cotton, backing is cream cotton. 2200 x 2000 mm.

Cotton quilt with central frame and radiating borders mainly in squares in pinks and blues, printed materials and plain. The padding is cotton wool and the backing is off white cotton.
2040 x 1800mm