Quilt No.267JH - Julianne Humphris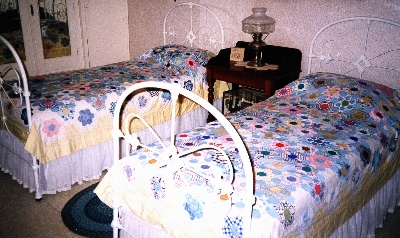 Description:
Patchwork quilt of hand sewn hexagons in a variety of print and plain cotton fabrics from 1950-1960. Colours are mainly pinks, blues, greens and yellow, with some red, and white. Quilt has a wide border of yellow poplin, which also forms the backing. No padding.
2280 x 1520mm
History:
Made by the owner, Mrs Julianne Humphris in South Australia. The quilt was started in 1960-1961 and took 2 to 3 years to finish. One of a pair.
Story:
The quilts have been in constant use since finished.
"I collected dress material scraps for years & quilts have pieces of first frock made for myself when 14 years old. Started handsewing hexagons after buying "Introduction to Patchwork" by Elizabeth McCosh, & "Patchwork Quilts" by Averil Colby followed - books I still have. Still enjoy sewing hexagons but also do machine piecing, applique & machine & hand quilting."
[Julianne Humphris]
Related Quilts:

Hand sewn cotton cot quilt with pattern of red and white lozenge shaped hexagons measuring approximately 65mm from top to bottom. A centre flower is constructed from 2 circles of 19 hexagons in red and white. This is surrounded by 8 smaller hexagon flowers. Additional single red hexagons are scattered at random on the white background around the rows of flowers. The quilt is not quilted or tied but is attached at all 4 edges. Writing on the back of the quilt (probably added later) reads "Made by Sarah Hodge, Newport, Wales UK for her first child John." There is no padding and the backing is white cotton. 1000 x 1250 mm.

Patchwork quilt, all cotton including cotton padding. 'Tree of Life' pattern. All 'Trees' are on white squares and are red or blue. Alternating squares are fawn or white. Simple diagonal quilting. Hand stitched.
1880 x 1728mm

Cotton quilt of pieced hexagons and some diamonds made for a baby's basket. Colours are mainly blue and pink and two 'Punch and Judy's' are appliqued in the centre. There is no padding and the backing is a cotton floral in blues and greens.
760 x 660mm

Utility quilt hand and machine sewn. The top has a centre frame of hand sewn hexagonal patches in a mix of dress materials and shirtings with four corner flowers and a roughly circular ring in red and blue stripe. The inner border has rectangular pieces in red/yellow/green/white hexagon printed material alternating with a blue/white spot. The outer border consists of large pieces of material, predominantly pink and blue stripes and checks. The backing is mainly red/white printed cotton. It is quilted all over in a diamond pattern. The padding is mainly flannel and has been made from another quilt.
1975 x 1675mm

Double sided quilt with both sides based on a central frame. One side has centre panel of darks surrounding 4 patch of the same print in different colourways. This is surrounded by borders of rectanglesis small prints, checks and stripes. The outer border is men's suitings. The other side has a centre frame similar to the 'Broken Dushes' pattern surrounded by wide borders in solid colours, paisley and fine checks. There is a dark strip across the top and bottom. It is roughly machine quilted.
1770 x 1380mm

Crazy patchwork quilt with pieces made from cottons, rayons, silks and taffetas. Each piece is stuffed with kapok and machine sewn to a backing then a wholecloth floral cotton backing has been added.
920 x 164o mms