Quilt No.296OGH - Old Government House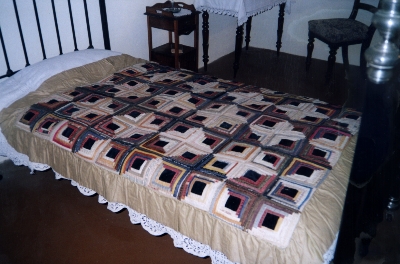 Description:
Patchwork quilt in Log Cabin pattern made from silks, velvet, cottons and taffetas, in prints and plain, around a centre squares of black velvet. Colours are, in the dark sections, blues, greens, browns, yellow and pinks. The base of the blocks is blue and white ticking. The padding is probably cotton. Backing is of green cotton. There is an attached frill on all sides of green cotton, faded to dull light brown.
1630 x 1350mm
History:
Made in Australia around 1870 by Sarah Keen (1830 - 1910). Previously owned by Mrs Keens' grand-daughter Miss Lenore Roach, now owned by National Parks and Wildlife Service, Old Government House, Belair SA.
Story:
Sarah was born in 1830 in Somerset, England, and came to South Australia in 1855. Her husband was the Reverend Thomas Keen. Through his ministry they lived in many towns in South Australia.
Related Quilts:

Repeat block in Dresden Plate pattern using various cotton fabrics from the 1920s. Quilted with a flower in the purple/pink centre and squares elsewhere. Border is furnishing fabric. The padding is cotton that is disintegrating and the backing is calico. 1980 x 2100mm

Patchwork frame quilt made from cotton prints. Quilt centre has four pieced squares set within a star shaped border of square patches, set within a square frame (74cm square) edged with half triangles, then set within a red frame (114cm x 114 cm), diamond shaped or 'on point'. In the 4 triangles are double diamond shapes, then a wide border of squares and 'square within a square' patches with red triangles. Red binding. Padding is probably wool. Backing is a cotton print in browns in a floral paisley. All over quilting. Handsewn.
1880 x 1850mm

Quilt top in block design based on hexagons in a variety of patterned cotton with a plain pink hexagon in the centre. The hexagons are linked by triangles of pink cotton. Cottons include florals, stripes, checks, tartans and novelty prints. 2080 x 2300mm

Patchwork quilt made from hexagon patches of cotton, silk, brocade, sateen and wool. Some silk patches are individually lined. Colours are mainly red, blues, purple, black, yellow and brown, with some pastels. Many silk patches have disintegrated, showing the paper templates. Quilt has a brown cotton inner lining, then a blue cotton backing, and is edged on the reverse with checked silk. Hand sewn by more than one person: one experienced sewer, one not so experienced.
1370 x 1170mm

Quilt made of tailors' swatches, machine constructed around a central frame that is mainly mid brown pieces. This is surrounded by rectangles of mainly charcoal greys and the outer border is navy blues. The backing is a heavy cotton with random green and cream and grey stripes.
1651 x 1220mm

A 'Farm Life Quilt' made from alternate squares of beige linen and brightly coloured cotton headcloth. The coloured squares are farm animals and birds in a variety of embroidery stitches. The beige squares have a cornucopia design embroidered in dark brown stem stitch. There is a wide border front and back of beige linen. The backing is brown and white check cotton. There is no padding.