Quilt No.366ES - E Shuttle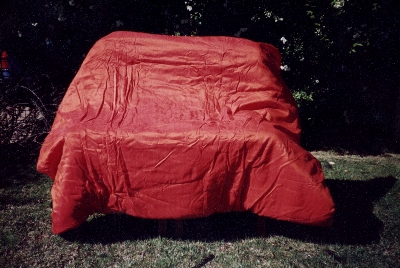 Description:
Wholecloth quilt made from orange cotton cretonne for back and front. Padding is made from old blankets stitched together. The quilt weighs 16 lb.
1423 x 1118mm
History:
Maker and place of making unknown. Owned by Mrs Shuttle since the late 1930s. Previously owned by her husband's family.
Related Quilts:

Wholecloth pram quilt with a top of pink cotton sateen, and the reverse is a more finely woven, ivory, fabric. All over quilting design as main feature, with stylised hearts, leaves and cross hatching. The padding is cotton batting. 870 x 660 mm.

Hand stitched, cotton, appliquéd, quilt in a flower pattern on a plain background. Colours are shades of green, apricot and browns. This quilt was known as a 'Bride's Quilt'. Padding is thought to be layers of white fabric raised almost like a wadding. The backing is cotton material. 2470 x 2020 mm.

Utilitarian quilt made from large pieces of wool, flannel and cotton. Machine construction and the padding is wool.
1570 x 152Omm

The cotton quilt top is blue featuring a floral design in the centre and a matching border. The main quilting pattern relates to this. There is a wide gold cotton border with a quilting pattern of parallel lines and diamonds. The backing is plain red cotton. The padding is cotton wadding.
2040 x 1750mm

4 Pieces of a patchwork quilt which was formerly a whole quilt. It is pieced in cottons in blues reds and browns in many prints. There are whole circles and pieced circles against a plain cream calico background. It is wool lined and is quilted. There are the initials 'A.B.' and '1828' on a central piece. The 4 pieces are various sizes.

Wholecloth quilt of white cotton with hand appliqued flowers in 3 shades of red. The centre of the quilt has 6 separate flowers radiating from a circle and each corner has a separate arrangement of flowers. The white cotton quilting is in diagonal lines and a daisy pattern. There is a narrow red border widely scalloped. The backing is white cotton. There is no padding.
2236 x 1905mm