Quilt No.930ESA - The Embroiderers' Guild of S.A.Inc Museum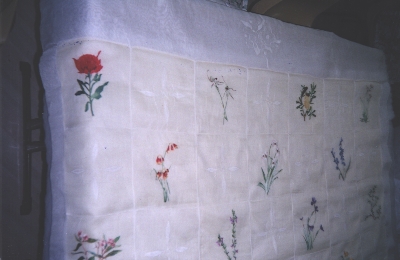 Owner:
The Embroiderers' Guild of S.A.Inc Museum
Description:
Wholecloth quilt in white cotton voile with alternating designs of Australian wildflowers worked in multi coloured cottons and shadow work. It is backed with yellow voile. There is no padding.
2010 x 1910mm
History:
This Adelaide Chronicle wildflower quilt was made by Miss Ida Summers in South Australia c.1933. It was later owned by Mrs. Jennifer Alde and is now in the collection of The Embroiderers' Guild of SA Inc. Museum.
Story:
"Miss Ida Summers worked for Jean Mattic of Terowie S.A. in the 1930s on a sheep station. Among her duties she helped the children with their correspondence lessons. During the war she joined the Air Force. She learnt painting/pencil and wash from Ruth Tuck."
[The Curator, Embroiderers' Guild of SA Inc. 19/1/99]
Related Quilts:

"A medallion or framed quilt in design. There is a central field of small patchwork diamonds, and from this radiates plain stripes of fabric bordering areas of patchwork panels. The edge of the quilt carries bands of red cotton, which are slightly larger at the top and bottom edges, and here the band is additionally decorated with appliqué diamonds. The fabric of the patchwork is cotton in fine plain weave of pale coloured florals and small geometric designs. The framing and border stripes are of bright red twill weave cotton. The small diamonds of the central field are hand sewn, with more use of machine stitching around the outer edge of the quilt.
The quilt is not padded. The patchwork is fully lined with a printed plain weave cotton fabric with a design commemorating Queen Victoria's Jubilee. The design is based on a repeated grid of circles. In the centre of each circle is a cameo of Queen Victoria, surrounded by images of the national flowers of England, Scotland and Ireland: the rose, the thistle and the shamrock. The edge of the front face of the quilt is trimmed with a red and white cotton braid." [NGA] 2380 x 2220mm

Utilitarian quilt. The padding is pieced used clothing and possibly reused blanket. The top and backing are machine pieced cotton scraps in a wide variety of pattern and colours.
1626 x 1601mm

Rectangular quilt of print and plain cottons pieced in squares and rectangles, the centre group of pieces surround a larger piece of pale blue fabric, within a frame or border, of bright pink material, then 3 rows of squares and rectangles. Backing of plain fabric. Machine stitched on a treadle machine.

Wholecloth quilt covered front and back with the least worn parts of old curtains. The padding is a carded wool sheet from Ipswich Woollen Mills placed between layers of cheesecloth.
1800 x 1225mm

Patchwork knee rug made from maroon wool cut up from a garment into different sized rectangles. Pieced by hand, then all edges crocheted with coloured wool thread. The top was then machined and quilted to a pale blue wool backing. No padding.
1080 x 780mm

Patchwork quilt made from hexagons 63mm across in a variety of cotton prints and plains. The bright coloured patches came from children's clothes and dressmaking scraps. The 'set included a large cot cover, a pillow cover and a circular stool cover. No padding. Backing of unbleached calico. Hand sewn.
2300 x 1840mm