Quilt No.367YHS - Yass & District Historical Society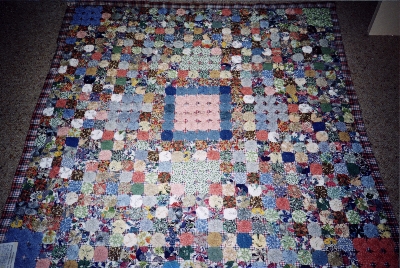 Owner:
Yass & District Historical Society
Description:
Patchwork quilt made of approx. 730 Suffolk Puffs, using mainly cotton materials in florals and plains. Each puff is 45mm diameter. The quilt centre has a square of 16 pink puffs outlined with a single row of blue puffs. Each corner of the quilt has a square of 9 puffs in a single colour. No padding. Quilt is edged and backed with a red and white tartan cotton.
History:
Made in 1967 in the Yass district by Florrie Bingley, the mother of the previous owner, Gordon McLung. Owned by Yass & District Historical Society.
Story:
The quilt was exhibited at many local shows and won prizes. It was Florrie Bingley's wish that the quilt be given to the Yass & District Historical Society.
Related Quilts:

Patchwork quilt, all cotton including cotton padding. 'Tree of Life' pattern. All 'Trees' are on white squares and are red or blue. Alternating squares are fawn or white. Simple diagonal quilting. Hand stitched.
1880 x 1728mm

Patchwork quilt of multi coloured silks and brocades. Crazy patchwork borders, mainly rectangular fabrics pieced together in diagonal patterns, radiating from a central frame embroidered with flowers. Many pieces are extensively embroidered in a great variety of stitches and motifs; butterflies, sunflowers, cats, daffodils, crown, pawn broker's symbol, 'money to lend', 'good night', the initials of family members and 'mater 1890'. The quilt has a deep border of maroon sateen. There is no padding visible but it is possibly a blanket. The backing is green/gold silk with a self stripe with red cotton damask showing underneath, possibly an earlier backing.
2165 x 2165mm

Quilt made from blocks in a fan pattern, 5 blocks across by 6 down. Fans are set on a black background, materials are wool and cotton in a mixture of plains and patterns. Edges of fans are decorated with cream herringbone stitch. Machine pieced with hand stitched repairs.Cream cotton backing folded over to make binding, stitched with pink herringbone stitch. Tied regularly with pink thread. The quilt is padded with wool.
2000 x 1720mm

Utility quilt hand and machine sewn. The top has a centre frame of hand sewn hexagonal patches in a mix of dress materials and shirtings with four corner flowers and a roughly circular ring in red and blue stripe. The inner border has rectangular pieces in red/yellow/green/white hexagon printed material alternating with a blue/white spot. The outer border consists of large pieces of material, predominantly pink and blue stripes and checks. The backing is mainly red/white printed cotton. It is quilted all over in a diamond pattern. The padding is mainly flannel and has been made from another quilt.
1975 x 1675mm

Quilt made of Suffolk Puffs or flattened circles, in different bright colours in cotton and silk. Large single bed size.

Crazy patchwork quilt with patches of velvet, satin and silk joined in 12 blocks. Each seam is embroidered and many patches have embroidered flowers. There is a 140mm maroon velvet border. The backing is maroon silk. There is a sachet that belongs with the quilt.
1800 x 1400mm