Quilt No.977NGA - National Gallery of Australia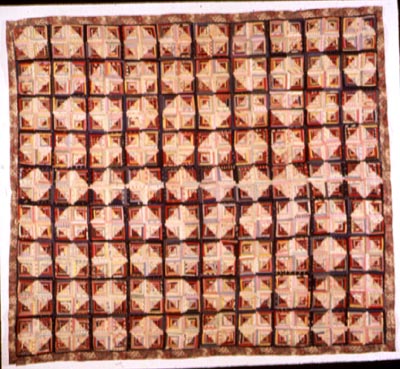 Owner:
National Gallery of Australia
Description:
" A wide range of cotton fabrics have been used to make this quilt in the traditional log cabin style. The strips of the log cabin are joined by rows being hand sewn onto a small square backing fabric, each square of strips has then been hand sewn together to form the quilt. The work is backed with a sateen printed fabric decorated with paisley design. A strip of the lining trims the edge of the front face of the quilt. The lining is attached with machine stitching. There are numerous tacking stitches that remain in the front face of the quilt. There are approx 9000 pieces in the quilt...
History:
"Sarah Monument (Australia 1862-1952) made this quilt between c.1910 and c.1928. Sarah's daughter, Mary Baker, put on the backing in about 1932. All the material for the quilt was made from scraps obtained from Chadwick's drapery store in Stawell, Victoria. The quilt remained in the possession of the Monument family until it was purchased by the National Gallery of Australia in 1985." [NGA]
Related Quilts:

Rectangular quilt of print and plain cottons pieced in squares and rectangles, the centre group of pieces surround a larger piece of pale blue fabric, within a frame or border, of bright pink material, then 3 rows of squares and rectangles. Backing of plain fabric. Machine stitched on a treadle machine.

Cotton scrap quilt with shapes of diamonds, strip and squares. The quilt has been repaired using machine zig zag in white cotton. There is no padding and the backing is calico.
2175 x 1625mm

Rectangular patchwork crazy quilt pieced in squares (3 across by 4 down), in silks and wool, with red sashing between blocks and red border, quilted. Colours are dark, with red and light blue. Embroidery includes double feather, rope, herringbone, satin, cross, sword edge, buttonhole and coral stitches, and French knots. Embroidered flowers include lily of the valley, rose, daisy, and sunflower, also butterflies. Backing is pieced in the frame style, with a large centre red square, within 10 frames or borders. Embroidered "In Most Loving Memory of My Darling 1883", "V.H.B." Hand sewn.
1900 x 1500mm

A hand sewn quilt of more than 6,536 hexagon pieces in cottons, silks and polyester mix. There is a centre circular pattern of hexagons within a larger hexagon and small hexagons form larger hexagons in a random pattern on the quilt top. There is no padding and the backing is a plain fawn sheet with a floral edging in hexagons. 2880 x 2550 mm.

Crazy patchwork quilt pieced from velvets, satins, braids, taffetas, cottons with some decorative stitching. A ruffle and the backing are in ruby red satin. There is a dacron type padding.
1620 x 1200mm

Hexagon quilt in dress and shirting cottons constructed in frame style with a centre rosette of 7 patches surrounded by 4 borders of patterned hexagons alternating with cream patches. The quilt has an inner border of triangles then rows of rosettes alternating with cream patches. The outer border is triangles. There is no padding. The backing is cream linen and has had a 20th century white cotton sateen slipstitched to it.
2045 x 1940mm