Quilt No.381FB - Fay Burgess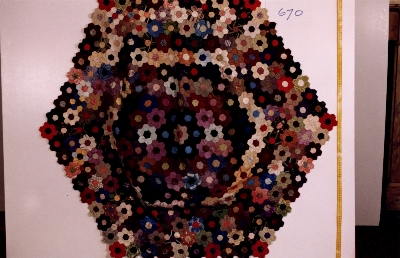 Description:
Hexagonal piece of patchwork made up of 9 rows of rosettes of hexagons in a wide variety of colours and patterns mainly in silks and velvets. It is incomplete. Backing papers are still in the outside rows and also basting threads. Hexagons are joined by fine whip stitching. It is unlined.
1370 x 1220mm
History:
Eliza Hillyard commenced the cover in England pre 1914. It was brought to Australia in 1914 when Eliza's daughter Ellen and her husband Tom (Thomas Montague Page-Knight) emigrated with their 4 children, Alice Maude, Vera, Beatrice Lucy and Charles Arthur. Ellen added rows of velvet and silk hexagons to Eliza's work. Ellen's daughter, Alice Maude , continued the work adding additional rows of hexagons. These are now the outer layer and still have some basting threads and papers in place. It is thought that Maude's work was in the 1930s and 1940s. The present owner, Fay Burgess, was given the work by her aunt Maude (Keage). Fay is the daughter of Vera May McGeachan (born Knight).
Story:
Eliza Worth (later Hillyard) b. 1886 was a needlewoman to Queen Victoria, mending linen. Her daughter Ellen (later Knight) made corsets and it is thought that some of the silk hexagons were from off cuts of corsets. Maude, born 1911, had a business as a dressmaker and made dresses for women married at Elizabeth Bay House in Sydney.
The present owner has a basket of pieces from the quilt and also Eliza's work bag with her initials embroidered on it.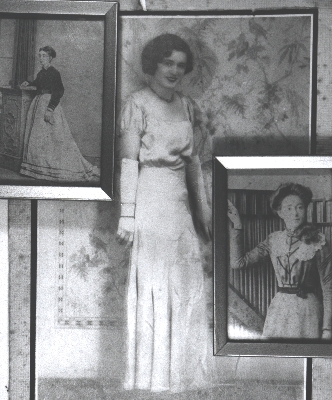 Related Quilts:

Patchwork quilt, all cotton including cotton padding. 'Tree of Life' pattern. All 'Trees' are on white squares and are red or blue. Alternating squares are fawn or white. Simple diagonal quilting. Hand stitched.
1880 x 1728mm

Patchwork quilt of multi coloured silks and brocades. Crazy patchwork borders, mainly rectangular fabrics pieced together in diagonal patterns, radiating from a central frame embroidered with flowers. Many pieces are extensively embroidered in a great variety of stitches and motifs; butterflies, sunflowers, cats, daffodils, crown, pawn broker's symbol, 'money to lend', 'good night', the initials of family members and 'mater 1890'. The quilt has a deep border of maroon sateen. There is no padding visible but it is possibly a blanket. The backing is green/gold silk with a self stripe with red cotton damask showing underneath, possibly an earlier backing.
2165 x 2165mm

Hexagon quilt made from dressmaking scraps from one neice. The quilt top only is complete and a few papers are still attached.
2250 x 2000mm

Patchwork quilt, all cotton including cotton padding filler. The design is 'Dresden Plate' or 'Friendship Circle'. Background is white with multicoloured and patterned triangular pieces forming circles. Hand stitched and heavily quilted.
2235 x 1778mm

Quilt made of Suffolk Puffs or flattened circles, in different bright colours in cotton and silk. Large single bed size.

"A tied patchwork wagga quilt made from swatches of men's wool suiting fabrics in blue/grey and pink/brown tonings. Rectangular swatches have been cut in half diagonally, and the resulting right-angled triangles paired to form larger equilateral triangles which alternate dark with light across the field. The quilt has been machine and hand pieced, then machined in vertical stripes.
The centre field is bounded by two strip-pieced borders at top and bottom, and three down each side. These are sewn from rectangles, using light pink/brown tones for the inner border and darker colours for the outer borders. The quilt is padded and backed and the side seams are secured with black herringbone stitch. The three layers are tied together invisibly with lazy daisy stitches in black cotton from the back." [PHM] The padding is a wool blanket and the backing is two pieces of cream twill cotton.
2030 x 1440mm