Quilt No.383RA - Ruth Nash Allen
Maker
Maker:
Women from Hurstville Church of Jesus Christ of Latter Day Saints
Description:
Quilt based on 70mm block. Cottons and rayon's with some reused materials. Machine pieced, hand quilted. Backing is mid blue cotton brought over to the front and machined to form a binding. Padding is probably cotton.
2510 x 1850mm
History:
The quilt was made by women in a church group in Hurstville Sydney as a project in which they could all participate. The women supplied the material and cut the pieces and Ethel Nash Parton, the President, machined them together. The women then hand quilted the 3 layers together. Ethel's mother-in-law and sister-in-law also helped with the quilting. It was made between 1944 and 1948 and the group did not make any other quilts.
For a few years the quilt was used under the mattress, over the wire base on Ethel's bed and then 2 years ago Ethel's sister, Ruth Allen, discovered the quilt when moving the bed. She now uses it on her bed.
Story:
Ethel Nash Parton belonged to the church group, the Relief Society of the Church of Jesus Christ of Latter Day Saints, Hurstville branch (Sydney). The church building was at the corner of Noble Street and Railway Pde. Allawah but it is not now owned by the church. Ethel was president of the group from 1944 to 1948.
The women making the quilt were not particularly interested in quilting, it was just 'a project'. There was a wide age range in the group and they wanted an activity in which everyone could participate.
Ethel's sister, Ruth Allen, wrote" I am very happy that Ethel is getting recognition as she's been a wonderful worker and is an unassuming, reserved person."
[Letter to NQR 13.2.1999]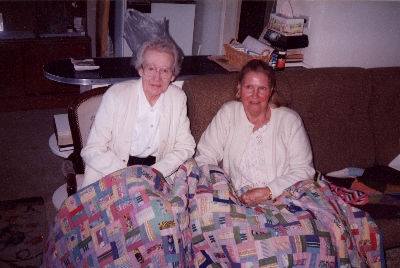 Related Quilts:

Suffolk Puff quilt made from a variety of scraps of dress materials including cottons and terylene. It is backed with white cotton sheeting and edged with a frill of white terylene. There is a matching pillow sham.
1740 x 1300 mm.

Patchwork quilt, all cotton including cotton filling. Pink and white. Large plain pink blocks with white pieced blocks in between in arrow type pattern based on rectangles. Hand sewn and hand quilted
1931 x 1728mm

Cotton quilt . Blue squares with evry alternate square cream with an appliqued butterfly. Blue border. Completely hand quilted. Light weight padding and cotton backing .
2743 x 1829mm

Large and small pieces, mainly rectangles and mainly cottons, machine sewn. One side has replacement materials in red check, brown, tan, blue and pink materials. The padding is an old woollen blanket.
1950 x 1327mm

Scrap quilt made from a myriad of different materials, cottons, silk types velvets etc. Alternate rows have triangles and odd shaped pieces with in between rows of squares and rectangles in smaller pieces. It is completely machine pieced. There is no padding. The backing is blue slub rayon and is brought to the front to form a border.
2200 x 1520mm

Hand pieced patchwork quilt with 10 diamonds consisting of hexagons with white and black rows as edging. Materials include furnishing and dress materials and a type of linen. It is not quilted or tied. The backing is a small floral print in flannelette.
2180 x 1830mm