Quilt No.477LC - Mrs. L. M. Chick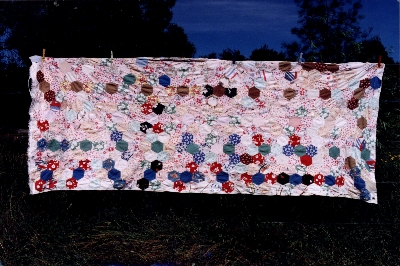 Description:
Hexagon quilt made by hand from a wide variety of cotton materials. There is no padding and the backing is calico.
2286 x 915mm
History:
The quilt was made by Doreen Vincent in 1935 for her family. It is now owned by Mrs. L.M.Chick, her daughter.
Story:
"This quilt is a replica of quilts made each year by the Ladies Guild at Holy Trinity Cathedral Wangaratta. Each member sewing together by hand a block 8 inches wide. Each separate piece hand sewn, and tacked, and hemmed over a six sided piece of heavy brown paper, joined around a centre piece and at the meetings put in a big box to be finally joined up. My Mother Doreen Vincent, each year had the job to join up all the collection up on the kitchen table and tack them all on to a quilt size length of washed calico. Machine all around edges and across. Then when finished the quilt was donated to one of the Church's Homes. Needless to say later in her life decided to make one for our family (Doreen Vincent) this is the one in the photo. This quilt is her own personal work, bringing us all many very happy memories when we look at it now. I can age memories of lots of my old dresses, many of my mothers too, lots of bits and pieces from many things and family membres, aunties, cousins aaaand even my Grandmother. How all our family love it." [L.M.Chick 27.11.1998]
Related Quilts:

Handmade quilt in off centre log cabin pattern. Pieces are floral furnishing and dress fabrics, in twenty blocks. There is no padding, and backing is of bright floral cotton. 1900 x 1500 mm.

Hand stitched silk quilt in mosaic patchwork based on triangles. Pieces include dress materials and some embroidered linings fom men's waist coats. Paper templates. The backing is cotton.
2200 x 2000mm

Friendship Quilt'. All cotton with thick cotton padding. Each of the large panels of patchwork is different and many are signed by the makers who belonged to the Rebecca Lodge in Linwood California. Dates on the squares with signatures are 1933. Wide variety of colours and patterned and plain fabrics. The quilt is now in 2 pieces.
1981 x 1727mm

Hexagon quilt in dress and shirting cottons constructed in frame style with a centre rosette of 7 patches surrounded by 4 borders of patterned hexagons alternating with cream patches. The quilt has an inner border of triangles then rows of rosettes alternating with cream patches. The outer border is triangles. There is no padding. The backing is cream linen and has had a 20th century white cotton sateen slipstitched to it.
2045 x 1940mm

Patchwork quilt of pieced repeat blocks in cotton in white, blue, green, orange and red prints, plains and checks. Blocks are set between green sashes with white corner blocks. The pattern is 'Saw Tooth Star' or 'Jacob's Ladder' variation. Backing is of cotton, padding of cotton. Hand sewn and hand quilted.
2058 x 1296mm

Patchwork quilt in the Log Cabin pattern, made from cotton fabrics in prints and plains in bright colours. There are 185 squares, all sewn on to check gingham. No padding. Backing is of black cotton.
2718 x 2540mm