Quilt No.407MC - Margery Creek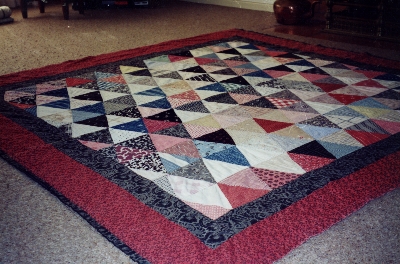 Description:
Cotton quilt in 'Pyramid Charm' pattern. Made in the USA and thought to have come from Louisiana. Hand pieced and hand quilted with the quilting following the triangular shapes. The quilting is quite coarse. The backing is black printed material and there is cotton padding.
1931 x 1855mm
History:
The maker is unknown. Margery Arnold Creek inherited the quilt from her Mother Margery Eleanor Arnold (1912-1996) who purchased it from a quilt dealer in New Jersey in 1991.
The quilt is not used.
Story:
Nothing is known of the early history of the quilt. Margery E. Arnold made quilts and collected them from the 1970s. She chose quilts to purchase usually by their fine workmanship and quilting designs and this one was also selected for the colour combination for her daughter Margery's bedroom.
Related Quilts:

Patchwork quilt, all cotton including cotton filling. "Wedding Ring" pattern in variety of materials in plains and patterned, many pinks and blues.
Hand sewn and hand quilted.
2236 x 1804mm

This quilt has been strip pieced with no regular pattern. It seems a large quilt has been made then folded in half. The materials used are woollen skirting pieces in a variety of colours. It could be used either way. There is no padding and it is very heavy.
2100 x 1950mm

Large squares, alternate brown check and blue check, of men's dressing gown material. "Everyone's father had one in 40s and 50s". [Pam Clifford]. No padding. Backing is smaller random shapes of men's grey suiting material. Machine construction. There is no quilting.
2236 x 1550mm

This Adelaide Chronicle wildflower quilt has alternating squares of green and fawn headcloth embroidered with Australian wildflowers on the fawn squares and stylised floral motifs on the green squares. It is bordered and backed with the same green material. It is padded.
2350 x 1530mm
Patchwork cot or pram quilt made of diamond patches in the Tumbling Block pattern. Patches are made from cotton, corduroy and velvet, with red, black, teal blue, green, brown and cream predominating. No padding. Backing is of green wool and the quilt is bound with dark red crushed velvet.
780 x 560mm

Patchwork quilt made from Suffolk Puffs in a mixture of bright and pastel prints and plains, mainly in cotton materials. Hand sewn. No padding or backing.
1630 x 1440mm