Quilt No.458RCH - Red Cliffs Historical Society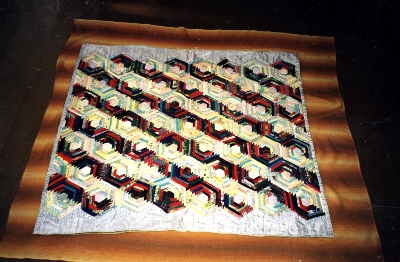 Owner:
Red Cliffs Historical Society
Description:
Hexagonal log cabin quilt. Hexagons constructed of strips with half hexagon dark and half light. These hexagons are then joined to form diagonal light and dark stripes. Machine and hand sewn. Materials are wools, printed cottons, velvets, corduroys, rayons, flannelettes, brocades, pique and taffetas. The backing is a single piece of brocatelle (rayon brocade). There is probably a thin layer of padding.
1400 x 1200mm
History:
The quilt was made by Florence Beaton of Sunshine Farm in the 1950s or 1960s. It is now owned by the Red Cliffs Historical Society at Red Cliffs, Victoria. The society also has a fine collection of Florence and Clara's needlework.
Story:
Florence (Flo) Beaton (born McNabb) 1920-1996 was the daughter of Clara and Frank McNabb who selected block 46 at Carwarp in the harsh mallee country of north western Victoria in 1913. They called it "Sunshine Farm". Florence was one of 4 childrten (3 boys). She recalled* that her Mother Clara once won a nail driving competition, was an expert with a shotgun, worked on the farm driving a team of horses, had a wonderful garden and was a fine needlewoman as was her mother Ellen before her. Flo carried on the needlework tradition of her mother and grandmother and was accomplished in many types of needlework including making quilts. Flo did not have any children.
[*Ref: "A Woman's Work" By Florence Beaton. The story of a Mallee farmer's wife from 1913. Published by The Sunnyland Press, Red Cliffs 1985.]
Related Quilts:
Cotton patchwork quilt in an all over pattern of diamonds in a wide variety of patterned and plain materials. Many seams are oversewn in feather stitch which goes through to the backing of calico.
1625 x 925mm

Quilt made from furnishing materials some with mettalic flecks. It is machine sewn.
160 x 135mm

Patchwork quilt has pieced blocks in the 'Ohio star' pattern in red print and white cotton, alternating with plain white blocks. Quilt has a 9cm frill in red and grey geometric print cotton, machine stitched around the edge. Quilt appears to have some hand quilting. No padding. Backing is white cotton.
2210 x 2060mm

Patchwork quilt made of 1 inch hand paper pieced hexagonal patches (English technique), with plain and floral patterned blue fabrics in clusters at regular intervals throughout the taupe coloured patches. Centre of quilt has a cluster or 'flower' of 4 rings of patches, the centre group embroidered in blue satin stitch: 'MW 1938'. Border consists of 3 rows of medium, light and dark blue hexagons. No padding. Backing is of blue cotton sateen.
2185 x 1372mm

Quilt top of hexagons in silks and satins, pieced over papers in the English tradition. Some paper templates still in place. One states: 'Semi - Monthly Regular Clipper packets to New Zealand, Port Phillip, Sydney�2nd of each month..Adelaide' suggesting it may have been from a shipping timetable.
1580 x 1830mm

Patchwork quilt, all cotton including cotton padding. Pattern is based on squares and a cross. Variety of fabrics, plain and patterned. Hand stitched and quilted.
2083 x 1626mm