Quilt No.465MT - Marie Thomas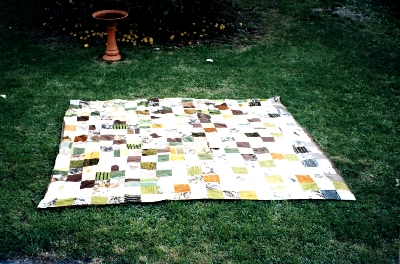 Description:
150mm squares of old material scraps, mostly cotton, including some curtain material. There is no padding and the backing is brown lawn.
2540 x 2370mm
History:
This quilt was made in the early 1960s by Marie Thomas and is still owned by her. It is not used.
Story:
Marie Thomas made the quilt for their bed from old material scraps she already had. Marie wrote that they badly needed a bedspread but couldn't afford to buy one.
Related Quilts:

The top is machine pieced patches of used clothing. The backing is large pieces of dress materials and either end patches similar to the top. The padding is a chaff bag or similar with patches of worn, matted children's jumpers sewn directly on to it.
1400 x 1150mm

Patchwork crazy quilt of late 40s and early 50s. Pieces are from curtains, tablecloth,other kitchen type fabrics in cotton, seersucker and linen. Colours are mainly reds, greens, blues, and pastels, in prints and plain. Herringbone stitch is worked around the edge of each patch. No filling. The backing is calico with one edge in a piece of coloured cotton from the front; the calico was a little small for the top.
2020 x 1400mm

Cotton quilt, checks, plains and patterns. Machine construction. Rectangles stitched together in strips and then strips joined. The backing is a cotton print. There is no padding and no quilting.
2420 x 1220

Quilt consisting of 30 blocks 360 x 360mm each (5 x 6). Each block consists of squares and rectangles arranged diagonally and edged with triangles. Each block is made from 2 or 3 different cotton materials, different colours but mainly pastels. It has not been quilted but tied with pink wool with 5 ties per block. Machine sewn with a folded and machine stitched edge. Padding appears to be coarse open weave cotton. The backing is printed flannelette.
2210 x 1850mm

Quilt in pattern known as 'double weeding ring'. All cotton, using old prints, plaids, checks and solid colours, with plain blues and red squares at the intersections of the circles. White background. Hand pieced. Padding is Hobbs Heirloom: cotton 80%, polyester 20%. Backing is cream quilted cotton. 2500 x 2100 mm.

Patchwork quilt made of rectangles of woollen fabrics from dressmaking projects. Pieces have been stitched together in no particular order. Colours are predominantly dark red and light grey, with some green, pink and blue. Fabrics are plain, checks and weaves. No padding or quilring. Backing is yellow curtain fabric.
2200 x 1100mm