Quilt No.481ED - Eileen Dinning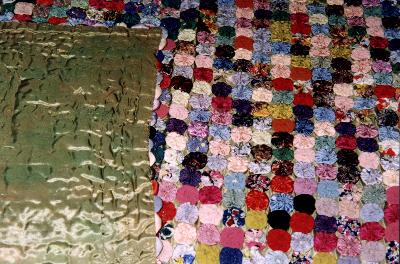 Description:
Quilt of over 6000 suffolk puffs (also called yo yos) in a mix of cotton and synthetic materials. The top is hand stitched on to a satin backing.
2413 x 1626mm
History:
The owner purchased the quilt at a garage sale for $75. It is not now used.
Related Quilts:

Quilt top with English piecing in a star in polygon pattern. English and French cotton fabrics in a wide variety of patterns and plains constructed over papers with the tacking still in tact. Papers are mainly part envelopes some with stamps and post dated 1898. 2200 x 1800mm

Patchwork quilt with alternate squares of green and fawn cotton headcloth. Various Australian wild flowers are embroidered in coloured threads in the green squares. In the fawn squares there is a stylised flower and leaf pattern outlined in embroidery. The border, front and back is green headcloth. The backing is printed cotton with a floral design. There is some padding.
1610 x 1610mm

Utility quilt hand and machine sewn. The top has a centre frame of hand sewn hexagonal patches in a mix of dress materials and shirtings with four corner flowers and a roughly circular ring in red and blue stripe. The inner border has rectangular pieces in red/yellow/green/white hexagon printed material alternating with a blue/white spot. The outer border consists of large pieces of material, predominantly pink and blue stripes and checks. The backing is mainly red/white printed cotton. It is quilted all over in a diamond pattern. The padding is mainly flannel and has been made from another quilt.
1975 x 1675mm

Large double sided quilt of rectangles and squares of men's suitings, patterned and plain on both sides. The top has a central motif of a circle of three segmented rings radiating from a single hexagon. The outer ring is all tailors' samples and the inner rings are a variety of materials. There is some featherstitching in red. The quilt is sparsley machine quilted.

Square patchwork quilt made from rectangles of woollen tailors' samples, each patch outlined with machine fancy stitch using red thread. Machine sewn. The backing is a green and white check fabric. No filling.

Cotton quilt in 'Wedding Ring' pattern. Background material is calico type in cream and the rings are in pastel colours, yellow, pink, blue and green prints and plains. It is hand pieced and hand quilted and the edges of the quilt are scalloped and finished with a pale pink binding. The backing is cotton and the padding is cotton.
2200 x 1900mm