Quilt No.483RF - Rita Fiddian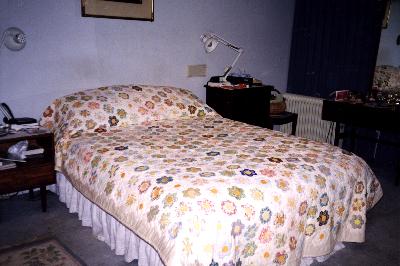 Description:
Grandmother's Flower Garden quilt. Hexagons are from cotton and polyester material mostly from 'Reverse Garbage' Melbourne. Hand pieced by Rita Fiddian, the owner. Hand quilted. The padding is wool and the backing cotton.
3049 x 2109mm
History:
"Rita made this quilt over a 15 year period starting in the early 70s. She did not know how to back and quilt it and put it away until 1998. Through the shop The Patchwork Gallery Heidelberg Vic then owned by Robyn Huntington, a *group of women worked for about 6 months together to hand quilt this quilt (no fee was charged). Rita was presented with the finished quilt in March 1999. She is now in her middle 80s." [Catherine Ringwood 10.3.1999]
*The women were Robyn Huntington, Jan Hird, Lee White, Pat McClelland, Vicki Fletcher, Faye Eddy and Cath Ringwood.
Related Quilts:

Double sided quilt. One side is frame with borders of wool rectangles mainly offcuts of men's suiting from tailors' shops. The other side is mainly flannelette in stripes and patterns similar to pyjama material. The padding is pieced patches of worn jumpers that were too matted to be unpicked. Machine construction.
1700 x 1490mm

Cotton patchwork quilt in double wedding ring pattern in pastel prints. Quilted in a design of geometric flowers. Padding is probably cotton wadding, backing is cream calico. 2270 x 1970 mm.

Cotton scrap quilt in a pattern known as 'Grandmothers Fan'. It is hand quilted. The padding is hand carded cotton and the backing is muslin.
2235 x 1880mm

Double sided silk quilt. One side is paisley designs and the reverse plain silk . Machine pieced. There is a thin padding possibly sheeting.
2694 x 2287mm

Utilitarian quilt. The padding is pieced used clothing and possibly reused blanket. The top and backing are machine pieced cotton scraps in a wide variety of pattern and colours.
1626 x 1601mm

Snow Ball' cotton quilt made in the USA. Feed bag materials and dress materials. Hand pieced and hand quilted. Calico border and backing.
2058 x 2007mm