Quilt No.483RF - Rita Fiddian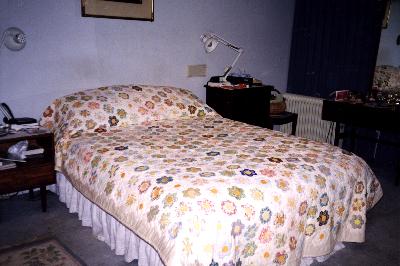 Description:
Grandmother's Flower Garden quilt. Hexagons are from cotton and polyester material mostly from 'Reverse Garbage' Melbourne. Hand pieced by Rita Fiddian, the owner. Hand quilted. The padding is wool and the backing cotton.
3049 x 2109mm
History:
"Rita made this quilt over a 15 year period starting in the early 70s. She did not know how to back and quilt it and put it away until 1998. Through the shop The Patchwork Gallery Heidelberg Vic then owned by Robyn Huntington, a *group of women worked for about 6 months together to hand quilt this quilt (no fee was charged). Rita was presented with the finished quilt in March 1999. She is now in her middle 80s." [Catherine Ringwood 10.3.1999]
*The women were Robyn Huntington, Jan Hird, Lee White, Pat McClelland, Vicki Fletcher, Faye Eddy and Cath Ringwood.
Related Quilts:

Cotton quilt made from squares of patterned and plain materials. It has a mauve cotton flounce around the border and a mauve cotton backing. There is no padding.
2700 x 1350mm

Double sided machine sewn patchwork quilt made from clothing scraps, wool blends, corduroy, velvets. Patterns include checks and tartans and there are many plain colours. Shapes are mainly rectangles and squares.
1524 x 1372mm

Patchwork quilt, machine construction in pink and white twill cotton, log cabin pattern. Each log cabin block was constructed with the backing in place, in groups of 4 blocks placed together. Each block 200mm in size.
2300 x 2050mm

Quilt, single bed size, made from reused clothing roughly handstitched on to a backing of a wool/linen blanket type fabric in green, cream and brown stripes. Clothing is fronts and backs of old jumpers, vests etc as well as opened out sleeves in red, brown and grey. They are stitched together in several layers with long stitches. Another top may have been intended to cover the stitched down layers of clothing.
1500 x 1040mm

Handmade quilt in off centre log cabin pattern. Pieces are floral furnishing and dress fabrics, in twenty blocks. There is no padding, and backing is of bright floral cotton. 1900 x 1500 mm.

Quilt top, all cotton. Center frame is 600mm square of calico on to which is appliqued red material in an elaborate cut out design. Radiating rows of mainly red and blue triangles. Other materials include, white with abstract plants scattered across it, pink with pin print white dots, white and maroon herringbone with small white flowers with maroon leaf sprays spread 25mm apart. The border is a strip of red not hemmed but with selvedges on the long sides. The quilt is all hand sewn with small back stitch, running stitch and hemming.