Quilt No.569DA - Daphne Akehurst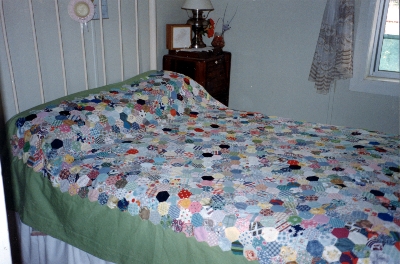 Description:
Quilt in a wide variety of patterned and plain hexagons in cotton with a wide green border. There is no padding and the backing is cotton.
2500 x 2200mm
History:
The quilt was made by Nellie Jackson in Temora and Ungarie NSW in the 1940s. It is now owned by her niece Daphne Akehurst. It is still used.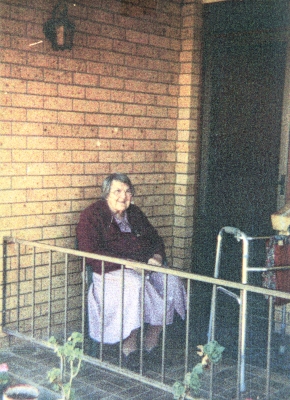 Related Quilts:

Log Cabin quilt featuring centre square and 3 outer borders. Evidence of later repairs and additions by machine and hand sewing. There is white paint on it. The log cabin pieces are sewn on to black netting. There is no padding and the backing is a centre piece of gold damask/sateen and green and black sateen borders.
1728 x 1321mm

Double sided patchwork quilt/rug. Mainly squares machined together in strips (8 across). Average square 22 to 24cms. One side has a large piece of dark grey woollen material. The materials for the squares include tweed, mohair,many woollens, tartans and cream blanketing all of which were scraps or from used clothing.
1820 x 1680mm

9 large blocks of crazy patchwork in silks and velvets. The blocks are divided by strips of deep ruby coloured silk. There is a wide ruby border with peaks to which is attached cream lace. The backing is beige silk. The main blocks are outlined with feather stitch in gold thread and many individual patches are outlined in fancy stitches and have embroidered motifs some of which are Australian eg centre patch has Sturt's Desert Pea flowers, parrots, wattle. There are also English flowers, Japanese motifs, flags, domestic objects and Marianne's initials. Embroidery is in a variety of threads including chenille.
2250 x 2180mm

Machine pieced cotton quilt, in random design of geometric pieces. Materials used are cotton sheeting, dress fabrics, broderie anglaise, and seersucker. There is no padding, and backing is white curtain lining.
1540 x 1150 mm.

Rectangular quilt of print and plain
cottons pieced in squares and rectangles within 2 frames, the inner border or frame of blue/green check material, then 2 rows of squares and rectangles, the outer frame of a grey and red geometric pattern and 2 rows of squares or rectangles. Backing of plain fabric. Machine stitched on a treadle machine.

Hexagon rosettes of printed and plain cotton in a flower pattern. Incomplete, top layer only.
2439 x 1981mm