Quilt No.679AM - Alicia Murdoch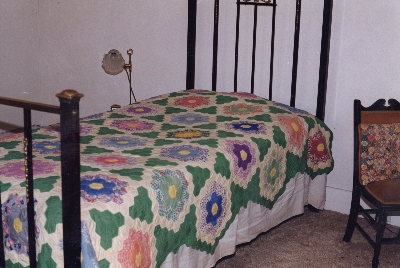 Description:
Cotton quilt entirely of hesagons. Some are formed into rostttes or flowers and have a print border of 12 hexagons, an inner circle of 6 hexagons in a plain colour and a yellow hexagon centre. The padding is cotton wool and the backing plain off white cotton.
2210 x 1430mm
History:
The quilt was made by Alicia Florinda Tye, grandmother of the present owner, in the 1930s probably in America and Melbourne. It is still used.
Related Quilts:

This is one of two single bed quilts in a pattern the owner calls 'Martha Washington's Flower Garden'. Flowers are in six hexagons in a variety of prints with a plain coloured centre. The background is cream, and the backing is calico. 2500 x 1800 mm.

Cotton quilt top in patter, the owner calls 'Tumblers'. Approximately 590 pieces, with one exception, all different patterns and colours. 2181 x 1980

Crazy patchqork quilt, handsewn, composed of six large squares of patches in brocade, velvet and silk in random shapes and sizes. Patches are stitched to others by blanket stitch in yellow thread. Some patches have surface embroidery, e.g. a dragonfly, flowers, music notes, and names, 'Minnie', 'Loyetta' (house in Ballarat), 'Diana'. There are also five small cream bobbles. Colours are red, gold, brown, pinks, greens and blues. Padding is flannel, and quilt is backed and edged with maroon or burgundy ribbed silk.
1461mm x 687mm

Patchwork top made of cottons, constructed with 5 by 5 rows of squared 8 point pieced stars alternating with white cross-shaped blocks (made from 4 pieces). On all sides are borders of half stars. The outer border is of rectangles of cotton prints appliquéd on to cotton to form a plaited pattern. The border only is backed with a band of cream cotton. All patches are whip stitched together.
2645 x 2615mm

The strip quilt is handsewn and quilted. Quilt top has 13 panels or strips of 3 different cotton lawn floral prints. Some fabrics are now wearing. Backing is of plain white cotton. The padding is wool. Quilting features a triple row cable design with flower motifs.
2100 x 1800mm

Patchwork quilt made from hexagons in 'Grandmother's Flower Garden' design, in blue and aqua cottons, polyester and flannelette. Quilt is backed. No padding or quilting.
2380 x 2320mm